skyn ICELAND: Cruelty-Free Solutions for Stressed Skin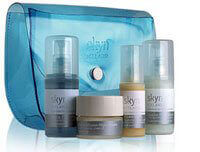 When life's little complications start taking a toll on your complexion, let skyn ICELAND soothe your troubled skin. With a mission to "promote a stress-free life full of balance, beauty, and wellness," skyn ICELAND's products are formulated to combat and counteract the effects of chronic stress on your skin.
What makes this cruelty-free skin-care line so special? Unlike many other companies, skyn ICELAND focuses on preventing skin problems rather than just treating them after the fact. Inspired by Iceland's untouched natural beauty, pristine glaciers, and clean air and water, skyn ICELAND's products are also infused with rare natural ingredients that are indigenous to Iceland, including Icelandic waters, angelica archangelica, butterfly bush, thyme extract, and Arctic berries.
These elements—combined with "cutting edge" constituents such as rice peptides, cerasome oxygen, and yeast extract—produce a special "biospheric complex" that's guaranteed to help heal, restore, and replenish damaged skin while erasing the signs of aging and irritation.
The perfect way to begin and end your day, skyn ICELAND's gentle, foaming Glacial Face Wash will refresh and detoxify your skin. After cleansing your face in the morning, apply a coat of ultra-hydrating, lightweight ANTIDOTE Quenching Daily Lotion. At night, nurture and renew your skin with Oxygen Infusion Night Cream and Icelandic Relief Eye Cream. If histamines are harassing you, blast away skin irritation with a burst of Arctic Face Mist. And if you're battling bumps and breakouts, skyn's Anti-Blemish Gel with willow bark will get rid of flare-ups in a flash. For a special treat, nourish your skin with a Nordic Skin Peel and purify your pores with a Cool Therapy Face Mask.
Just as refreshing as skyn's mists and masks is the fact that all its products, which are available online and at retailers around the country, sport the PETA bunny logo to let consumers know that they are cruelty-free. In fact, PETA is proud to honor company founder Sarah Kugelman with a Trail-Blazer Award for her compassion and commitment to using only vegan ingredients and to never testing on animals.
To learn more about cosmetics testing on animals, go here.
Related Posts
Respond