Easy Peasy Tips for the New Vegan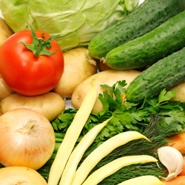 Ever since I wrote about the American Dietetic Association's updated position paper in support of vegetarianism, I've heard from people who really want to go vegetarian or vegan but just aren't sure how. Others need a little more help convincing their loved ones that veganism is safe and easy. It's exciting that so many people are ready to give peas a chance, so to speak! It's easy being vegan, and the following tips should help get you started—or help you persuade your worrywart friends and relatives that vegan foods are nutritious, delicious, and widely available.
1. Just Veg Out: For optimal health, eat an array of fruits, vegetables, legumes, whole grains, and all the nutritious foods that can be made from them. Inexpensive, versatile vegan staples, like beans, lentils, leafy greens, rice, pasta, peanut butter, and tofu, can be used in a variety of recipes.
2. Easy Does It: Don't worry if you're not a celebrity chef—you don't have to make elaborate dishes. You can whip up tasty meals with little effort. Try a vegan wrap with hummus, lettuce, tomatoes, green onions, sprouts, and shredded carrots. For innovative lunch ideas, see veganlunchbox.blogspot.com.
3. Mocks Rock: Choose veggie burgers rather than hamburgers, soy sausage over pork sausage, and tasty faux chicken instead of chicken flesh. Check out this list of popular mock meats, egg replacers, and dairy-free milks, cheeses, and desserts.
4. Simple Substitutes: Many of the things you likely already eat can easily be "veganized" just by swapping one or two ingredients. For example, you can make manwiches or "meat sauce" with Veggie Burger Crumbles.
5. Accidentally Vegan: Some of the packaged foods you already buy are likely vegan too, even though they aren't marketed that way. Check out this list of "accidentally vegan" foods.
6. Eat at Moe's: Many popular chain restaurants, including Johnny Rockets, P.F. Chang's, and Moe's Mexican restaurant have vegetarian and vegan options.
7. Ethnic Options: Most Indian, Ethiopian, Thai, Chinese, Japanese, and Middle Eastern restaurants offer a variety of vegan options. Don't be afraid to try new cuisines!
8. Vacation With Your Values: It's easy to take your vegetarian diet with you when you go away. Visit www.vegdining.com and www.happycow.net for a list of vegetarian-friendly restaurants at your destination. Many travel books, like the Lonely Planet guides, offer suggestions for vegetarian travelers too.
9. A Good Influence: Whether you're young and need help convincing your parents that you can get all the nutrients you need from a vegetarian diet or you're a parent trying to persuade your children to eat healthier, PCRM's tips and meal ideas can help you out.
10. Vegetarian-Friendly: If your friends and family members don't share your interest in vegetarianism, join a local vegetarian society, attend vegetarian potlucks or conferences, or simply chat online with other like-minded folks at www.vegsource.com. Not enough advice? Don't worry: We have even more tips for making the transition to a vegan diet.
Respond