Former Slaughterhouse Worker Became Outspoken Animal Rights Activist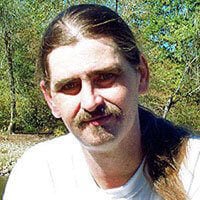 Virgil Butler first contacted PETA in 2003 to blow the whistle on the rampant abuse that he had witnessed during more than eight years on the job at Tyson Foods. He worked tirelessly to expose cruelty that included blowing chickens apart with dry-ice bombs, intentionally scalding them to death by the thousands, and breaking the legs of large chickens in order to fit them into shackles that were too small.
Virgil also worked closely with PETA to call for the prosecution of those responsible, including speaking out at a news conference, recording a video, going undercover to videotape inside the plant, and writing a comprehensive statement detailing the sadistic cruelty that he witnessed at the Tyson plant.
He and his wife, Laura Alexander, created an internationally acclaimed blog to document his slaughterhouse experiences. The blog educated millions of readers about the routine and abject abuse endured by chickens. Virgil's compelling firsthand account of the violent reality of slaughterhouses prompted thousands of people to go vegetarian; he received e-mails and letters of support from all over the world.
Virgil was dedicated to speaking out against the abuse of chickens and other animals. His passion and commitment inspired many people to advocate for animal rights and learn more about what goes on behind closed doors on factory farms and in slaughterhouses.
On December 15, 2006, the animal rights community lost a strong supporter and a good friend, Virgil Butler. He was 41 years old.
Virgil would have liked nothing more than to know that people are honoring his memory by adopting a vegetarian diet. Take action in Virgil's honor today by taking the Pledge to Be Veg for 30 days.
Respond