The Top 6 Vegan-Friendly Doughnut Shops
The first Friday of every June is National Doughnut Day, the sweetest holiday of the year. This year, it falls on June 6, so we've put together a list of the top six vegan-friendly doughnut shops in the United States. While the cruel egg and dairy industries cause the exploitation and suffering of animals, these shops make it easy to choose compassion with their animal-free products. Not only do you get to enjoy their yummy treats, you also get to feel great about supporting kindness. (Note: You might want to get a napkin ready to wipe away your drool before you continue.)
1. Mighty-O Donuts
Seattle
Mighty-O Donuts began serving its original cake doughnut recipe at street fairs in 2000. In 2003, it opened its doors to a full-time business, which now serves customers seven days a week. With a selection of 40 doughnuts, 12 of which rotate seasonally, Mighty-O is top-notch. If you're not convinced yet, just wait until you hear about its best seller: the French Toast doughnut, a warm spice cake doughnut with maple glaze, cinnamon, and a powdered sugar dusting. What could be better?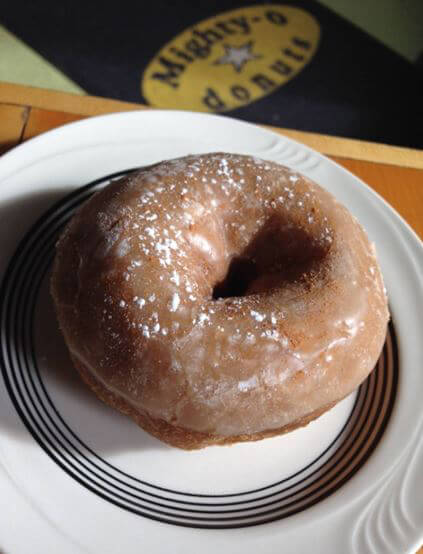 2. Vegan Treats
Bethlehem, Pennsylvania
As a previous winner of PETA's Proggy Award for Best Bakery, Vegan Treats lives up to its name with a seemingly endless selection of delicious doughnuts. Cinnamon Sugar Pretzel, Tiramisu, Vanilla Soy Chai, Peanut Butter Crunch, and Pumpkin Mousse are just a few of the flavors it offers. But it's best known for its Boston Cream doughnut. This classic staple has both vegans and nonvegans alike singing its praises for miles.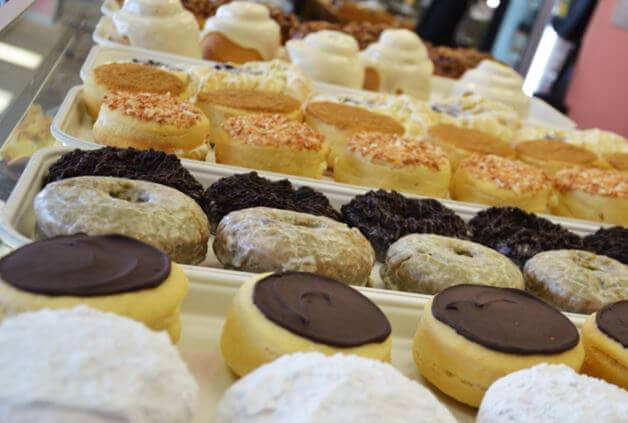 3. Ronald's Donuts
Las Vegas
Ronald's Donuts' Las Vegas storefront has two shelves of vegan options. Its selection includes cinnamon rolls, turnovers, bear claws, and raspberry, lemon, and soy custard doughnuts. Have you ever heard of an apple burrito? After you visit Ronald's, you'll wonder how you ever managed to live without one. Anytime a PETA staffer from Los Angeles is near Las Vegas, he or she always makes a point of stopping at Ronald's and filling up on the best-tasting doughnuts in Nevada.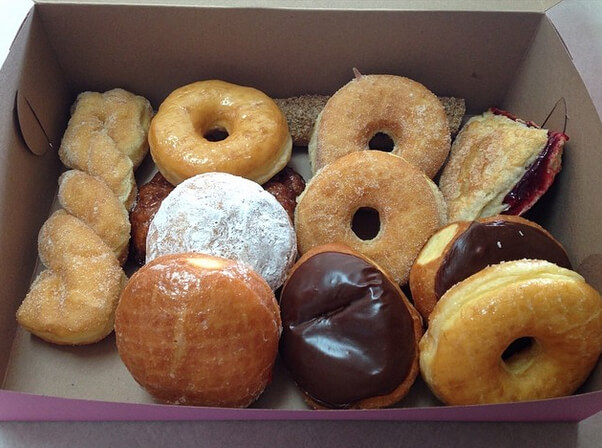 4. Pepples Organic Donuts
Oakland, San Francisco, and Berkeley, California
Since 2007, Pepples Organic Donuts has been offering customers all over the Bay Area sweet treats that are as good for the taste buds as they are for the environment. Every ingredient in the doughnuts is organic, and Pepples places a special emphasis on recycled, reusable cups, plates, and paper goods. Its entirely vegan and organic menu offers more than 30 choices. The standouts are the Double Blueberry, the Salted Caramel, and the intriguing Whiskey Tangerine Fig.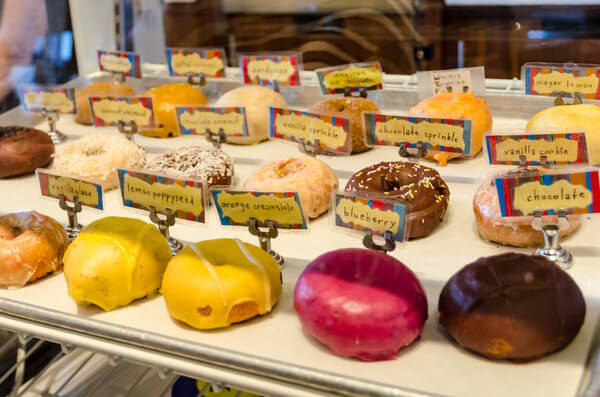 5. Tandem Doughnuts
Missoula, Montana
Every Saturday, Tandem Doughnuts delights patrons of the Clark Fork farmer's market with its tasty pastries that are all both vegan and gluten-free. It tries to create one or two new doughnut flavors each week, so there's always a surprise in store. To name just a few, there's the Coffee Glazed With Chocolate Ganache, Strawberry Basil, Mexican Chocolate, and Cinnamon O's. Its most popular flavor is Lemon Lavender, but it also knows how to cater to its audience, and in Montana, anything made with huckleberry gets devoured quickly.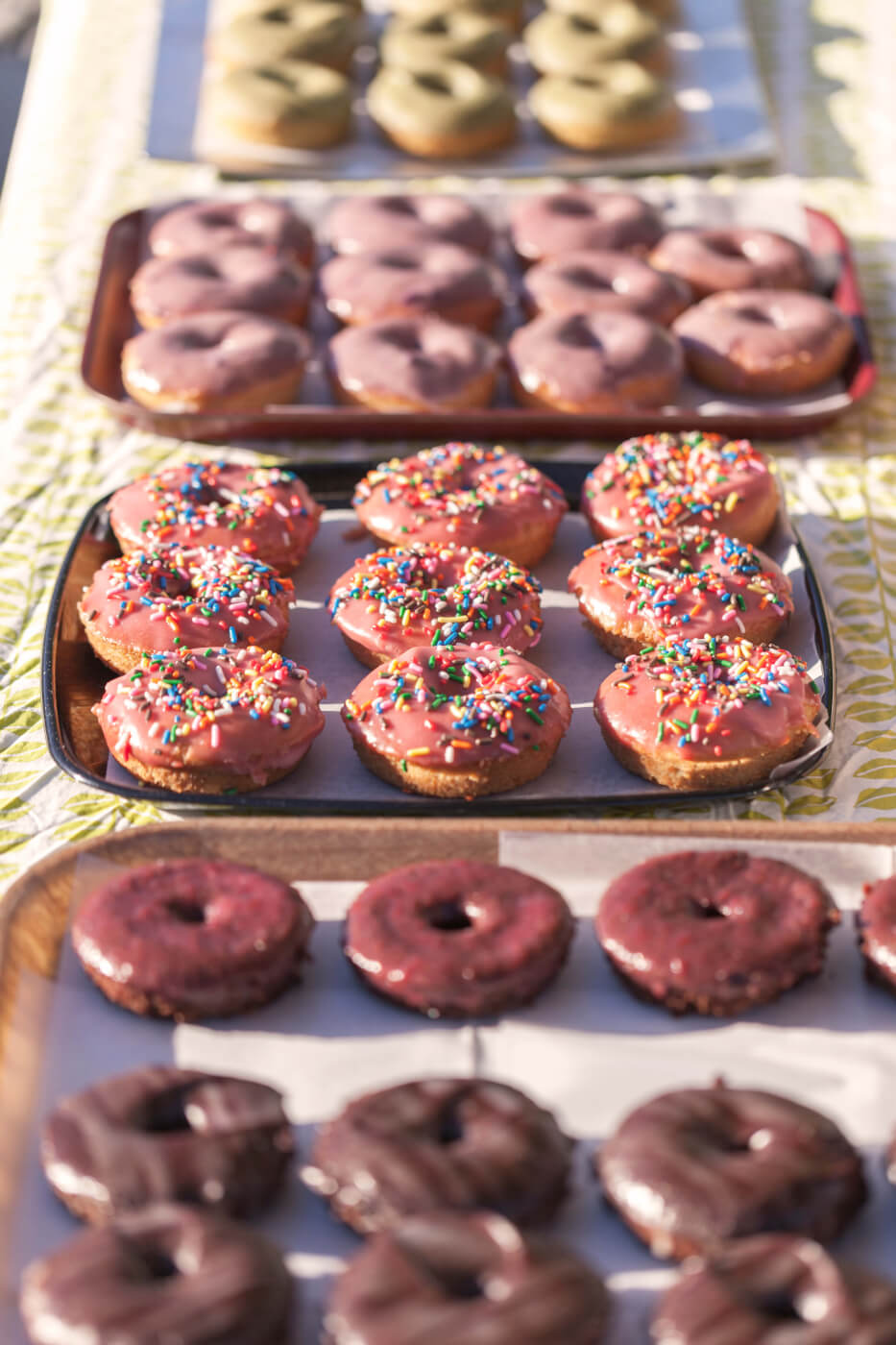 6. Le Cave's Bakery
Tucson, Arizona
Le Cave's Bakery is a groundbreaker. It's been serving its doughnuts completely free of animal products since 1935, and with all those years of experience, it's perfected the recipe. Le Cave's offers doughnuts filled with mango, strawberry, lemon, raspberry, or cinnamon-apple. It also has the very best of the classics, with glazed, maple, powdered, and chocolate doughnuts.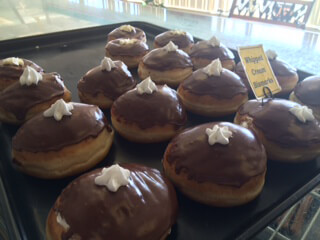 Honorable Mentions
1. Voodoo Doughnut
Portland and Eugene, Oregon, and Denver
Voodoo Doughnut offers 14 ready-made vegan items on its menu, but the possibilities don't stop there. It's more than willing to make any custom vegan doughnut a customer may preorder, and as long as the toppings are vegan, any doughnut on the menu can be made vegan. Not only does Voodoo offer custom ingredients, it can also make its doughnuts into various shapes, sizes, and designs. For example, one of the most popular items is the Voodoo Doll doughnut, a raised yeast doughnut filled with raspberry jelly, topped with chocolate icing, and shaped like a voodoo doll.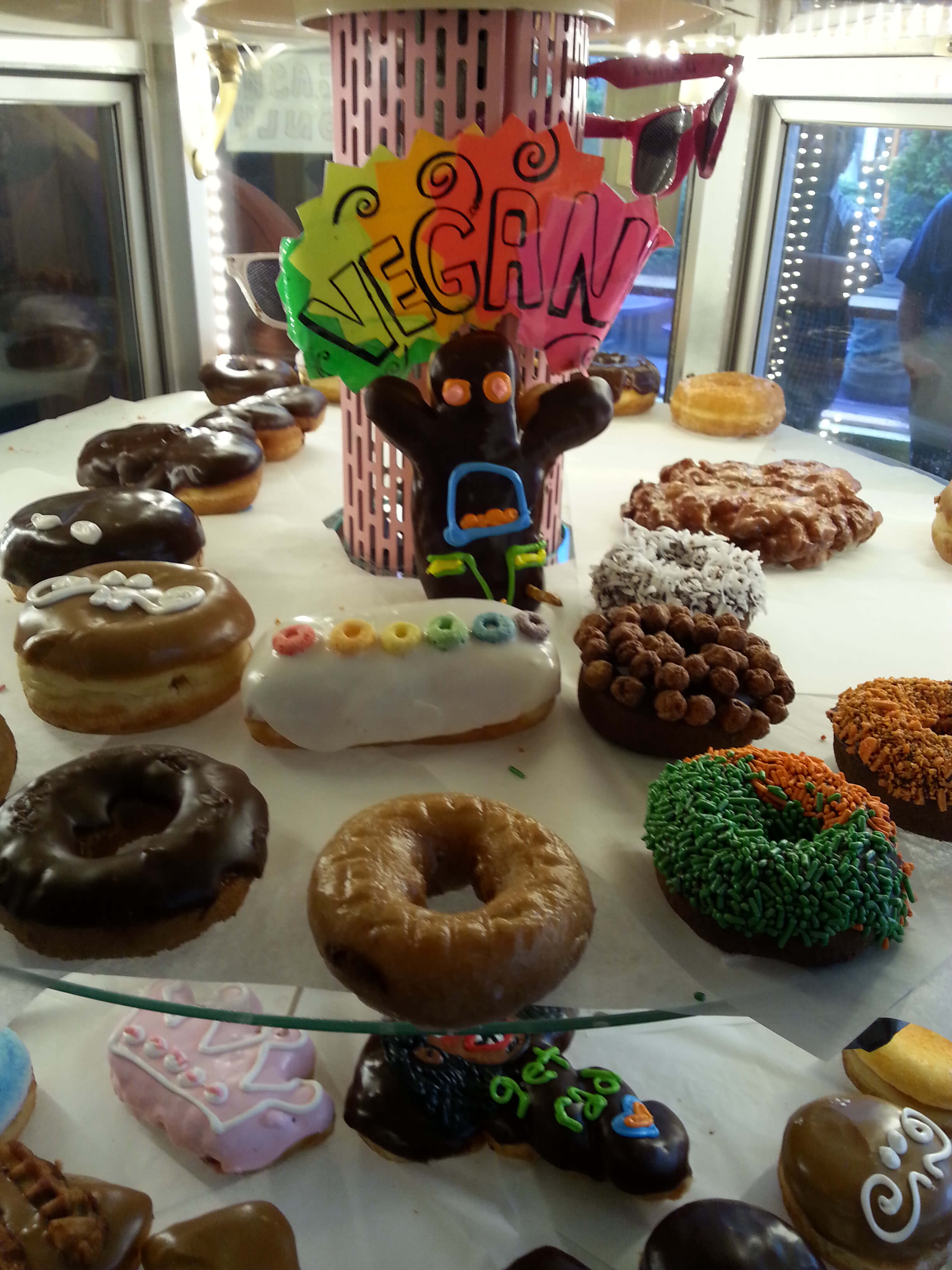 2. Donut Friend
Los Angeles
Donut Friend's traditional and cake donuts are all vegan, and most of its toppings are as well. Since it makes doughnut combinations to order, Donut Friend says it has "literally thousands" of unique vegan options. One of the many greats is the Jets to Basil. This doughnut is filled with strawberry jam and vegan cream cheese and topped with fresh basil and a balsamic vinaigrette. It's hard to imagine that you'd find delectable combos like that anywhere else.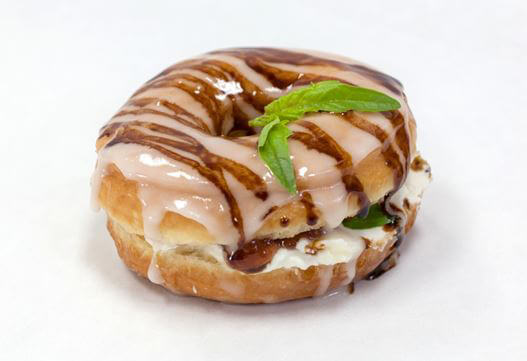 Are you craving doughnuts but aren't within immediate driving distance of any of these wonderful places? Not to worry! Check out PETA's own vegan doughnut recipe to satisfy your sweet tooth.
Respond