Too Hot for the Big Game: PETA's Banned Super Bowl Ads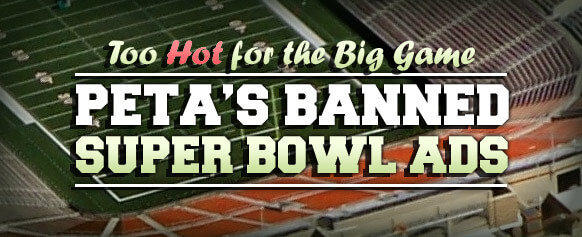 What do lingerie-clad models getting naughty with vegetables, a pizza delivery guy who can't deliver "the sausage," and a barroom full of milk-guzzling coeds who bare their udders (yes, udders) have to do with the world's biggest sporting event? All three are among playful PETA ads that were deemed too hot to air during the Super Bowl. So as kickoff for Super Bowl XLIX fast approaches, call a time-out to sit back and enjoy what you won't get to see during the game.
You've never seen broccoli and asparagus looking so good—honest.
After watching this video, we think you'll agree that drinking cow's milk is udder nonsense.
Watch what you order on that pizza! You wouldn't want to disappoint these eager ladies like the delivery guy did.
The next time you drive past a KFC and notice Colonel Sanders' mug on the sign, you'll ask yourself, "Why is that man smiling?"
Academy Award–nominee Joaquin Phoenix stars in this PETA commercial that really is "for the birds."
As you can see, most of our banned Super Bowl ads take a lighthearted approach to a very serious subject: the abuse of animals raised and killed for food. To make the switch from eating meat and dairy products to eating healthy, humane, and Earth-friendly vegetarian meals, order a free copy of PETA's vegan starter kit today.
Respond