GW's Sleazy Associates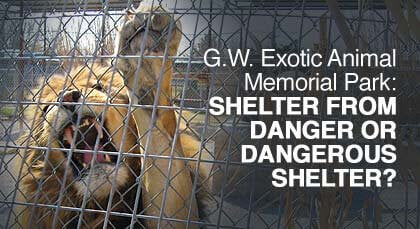 GW's associates are a collection of the usual suspects, many of them chronic violators of the federal Animal Welfare Act. GW also serves as a dumping ground for animals once used in the film industry and in traveling shows. Following are a few of the people and facilities that GW deals with and has acquired animals from.
Amarillo Wildlife Refuge (AWR)
AWR, a pseudo-sanctuary in Amarillo, Texas, was the subject of a PETA undercover investigation that revealed horrific conditions at the facility. Animals were caged in filthy, deprived conditions, and the minimal standards of the federal Animal Welfare Act were ignored. AWR regularly advertises tigers, tiger cubs, and primates in the Animal Finder's Guide, and Charles Azzopardi, owner of AWR, recently pleaded guilty to federal wildlife trafficking charges. During PETA's undercover investigation at GW, numerous animals were temporarily housed for AWR, including coyotes and fisher cats.
Steve Martin's Working Wildlife
Martin—a breeder, trainer, and supplier of exotic animals for films and television—has a litany of USDA citations, including confining chimpanzees and orangutans to "night housing" for up to 18 hours per day. Martin disposes of "surplus" animals by advertising them in dubious trade publications and dumping them in pseudo-sanctuaries. In 2006, GW received two chimpanzees, two bears, and one lion from Martin.
Eric Drogosch
During PETA's undercover investigation, GW hired Eric Drogosch as park manager. Drogosch had previously operated as an exhibitor, taking tigers and leopards to fairs, festivals, and businesses. In 2004, the USDA revoked his license for repeated violations of the federal Animal Welfare Act. The violations included failure to provide adequate housing, failure to handle dangerous animals sufficiently to ensure the well-being of the animals and the public (resulting in injuries to a child), operating without a valid license, and failure to maintain a program of veterinary care.
Jamie Palazzo
Palazzo was formerly a "trainer" with Bridgeport Nature Center – a notorious breeder and exhibitor who has been penalized $20,000 by the USDA, had its license suspended, was fined $3,500 to settle contempt-of-court and consumer-fraud charges in North Dakota, and was prohibited from exhibiting big cats in North Dakota and Massachusetts – and has now ventured forth with her own exploitative big cat act. In April 2006, GW acquired three tigers from Palazzo and gave her a tiger cub to use in her traveling show.
Hawthorn
On March 9, 2006, GW got two white tigers, Tilac and Khan, from the infamous Hawthorn Corporation, which has a long history of USDA sanctions and abusing and neglecting animals. The tigers were probably purchased, because Hawthorn had just advertised them in the Animal Finder's Guide, a publication that peddles exotic animals to private owners, breeders, dealers, roadside zoos, and trophy hunters.
Lightning Ranch and Wildlife Preserve
GW obtained four tigers, one mountain lion, one lion, and a grizzly bear named Ozzie from Lightning Ranch, a roadside zoo in Kansas that had its USDA license revoked, and hired Lance Williams, Lightning Ranch's former owner, to work at the park.
Fercos Bros.
In 2006, GW took two tigers who had "outgrown the stage" from these Siegfried & Roy wannabes. The tigers were killed shortly after their arrival because they were "mean." Reportedly, their teeth were cut out to be given as gifts, and one was decapitated and his head given to the husband of GW's veterinarian to be mounted.
Arbuckle Wilderness
From 1999 to 2002, GW acquired five tigers, eight cougars, four black bears, two snow macaques, a lemur, two donkeys, and three bobcats from Arbuckle Wilderness, a roadside zoo in Oklahoma with a long history of deplorable animal care. In 2000, the USDA filed 60 charges of Animal Welfare Act violations against Arbuckle.
Devera Stevens
From 2001 to 2002, GW got seven tigers, three leopards, and a lion from Stevens, a USDA Class B licensed breeder in Texas who regularly advertises adult tigers and cubs, as well as other exotic animals for sale in the Animal Finder's Guide, a publication that peddles exotic animals. In 2005, PETA helped stop Stevens' attempt to "donate" a tiger to the Baghdad Zoo to replace one shot and killed by a U.S. soldier.
Perrydise
In 2002, GW obtained three baboons from Perrydise (one of whom died four months later). Perrydise is a roadside zoo in Leona, Texas. The USDA has repeatedly cited Perrydise for numerous serious violations of animal-care standards, including caging hedgehogs in a room with an ammonia odor so noxious that it caused eye irritation, keeping big cats in feces-contaminated cages, and failing to maintain enclosures in good repair to prevent injuries to animals.
M&C Exotics
From 2002 to 2004, GW got 11 black bears and a lion from M&C Exotics, a USDA-licensed breeder in Minnesota. During an inspection on December 2, 2004, the USDA was told that the bear, lion, and tiger enclosures had not been cleaned in more than a month. M&C Exotics regularly advertises bear cubs for sale in Animal Finder's Guide.
Safari Joe's
In 2001, GW acquired six tigers, six lions, a leopard, two cougars, a serval, a fox, and an Arctic fox from Safari Joe's, a roadside zoo in Adair, Oklahoma, that had many problems, including unsafe handling of dangerous animals and the death of one worker, who was killed by tigers. In June 2003, Safari Joe's settled a case with the USDA by agreeing to a $10,000 fine.
Wayne's World Safari
In 1999, GW obtained two tigers, a lion, and a bear from Wayne's World Safari in Mathis, Texas. In 2005, the USDA revoked Wayne's World Safari's license, concluding that the facility had committed 84 violations of the regulations and standards issued under the Animal Welfare Act.
Respond