More Ways to Support PETA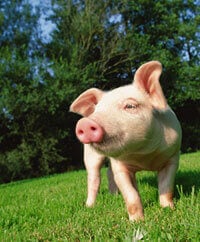 Looking for more great ways to help animals? By supporting PETA you will give us the resources we need to continue our important work for all animals.
Purchase a gift membership. It's a lovely way to celebrate a holiday, birthday, or other special occasion with a friend, colleague, or family member who cares deeply about animals.
Make a memorial gift in honor of someone who was a friend to animals, or in memory of a beloved animal companion. Helping PETA's programs to create a kinder world is a thoughtful tribute to the memory of a loved one.
Include PETA in your estate plans and you can give animals a future by ensuring that your work to help protect them lives on.
Make a gift of property. Do you have real estate or personal property that you'd like to donate? Or perhaps a vehicle? Are you interested in making a gift of stock? All of these offer terrific opportunities for taking advantage of tax benefits while combating cruelty to animals.
Contribute where you work. If your employer conducts a workplace campaign, consider designating PETA as one of the nonprofits to receive your contributions.
Become a PETA Business Friend and highlight your animal-friendly products or services while taking advantage of exclusive promotional opportunities.
Fundraise for PETA and fight cruelty to animals with the help of your friends, family, and co-workers.
If you have any questions about any of these options or any of the ways in which you can support PETA's work, please call 757-962-8287 or e-mail. Thank you for all that you do to help PETA reduce animal abuse and suffering.
In This Section
General PETA Information