Want to See More of Khloe Kardashian?
Written by June 8, 2011
|
Long before she accidentally gave viewers an eyeful on "Fox & Friends," Khloe Kardashian was a friend to foxes. When she saw with her own eyes how foxes and other animals are bludgeoned, electrocuted, and sometimes skinned alive for their fur, she purposefully bared her skin to save theirs.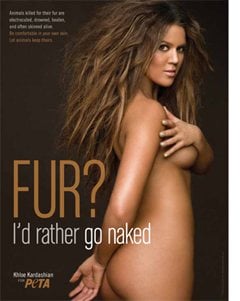 Khloe is reportedly amused by all the attention the TV appearance is getting, and we're pretty sure she's thinking, "I'd much rather go naked on Fox than wear a fox."

Written by Michelle Sherrow
Related Posts
Respond
Comments
If your comment doesn't appear right away, please be patient as it may take some time to publish or may require moderation.
By submitting this form, you are agreeing to our collection, storage, use, and disclosure of your personal info in accordance with our privacy policy as well as to receiving e-mails from us.