Tony Gonzalez's Great Reception
Written by October 26, 2011
|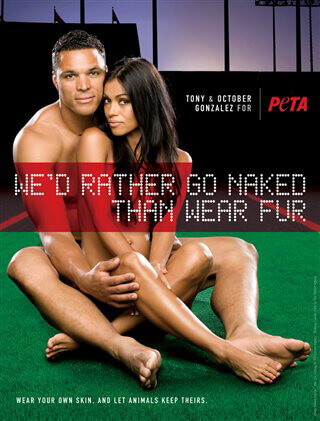 My husband probably thinks that I watch Atlanta Falcons games with him to be supportive of his favorite team, but I'll confess, it's for tight end Tony Gonzalez.
Last Sunday's game was especially cool because toned Tony edged out Cris Carter and Marvin Harrison to become second in career receptions, with 1,104 catches. He now trails only Hall of Famer Jerry Rice. But Tony got one reception that Rice never did: a warm reception from compassionate folks everywhere for the naked anti-fur ad that he and his lovely wife, October, starred in.
Tight end indeed. 
Written by Michelle Sherrow
Related Posts
Respond
Comments
If your comment doesn't appear right away, please be patient as it may take some time to publish or may require moderation.
By submitting this form, you are agreeing to our collection, storage, use, and disclosure of your personal info in accordance with our privacy policy as well as to receiving e-mails from us.