Six-Month-Old McD's Burger Won't Decompose
Written by
October 13, 2010
|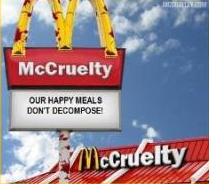 Apparently—unlike the cows who are killed to make them—McDonald's burgers can live to a ripe old age. In April, New York City–based artist and photographer Sally Davies bought a Happy Meal and left the contents sitting out in her kitchen as an experiment. Six months later, the burger looks much the same as it did on the day it was slapped together. Says Davies, "The only change that I can see is that it has become hard as a rock" and "the food is plastic to the touch and has an acrylic sheen to it."
Hmm … if even mold won't eat McDonald's food, no one else should, either. Oodles of 100 percent natural, biodegradable, and cruelty-free veggie burgers are available to make our taste buds and animals happy.
Written by Lindsay Pollard-Post
Related Posts
Respond
Comments
If your comment doesn't appear right away, please be patient as it may take some time to publish or may require moderation.
By submitting this form, you are agreeing to our collection, storage, use, and disclosure of your personal info in accordance with our privacy policy as well as to receiving e-mails from us.