New Year, New Ne-Yo: The Rapper Goes Vegan
Written by
January 4, 2013
|
Ne-Yo is making it a happy New Year for animals: The rapper has resolved to go vegan in 2013. When Ne-Yo first tweeted his New Year's resolution, he deemed it a discipline test. But after he learned about the cruelty of the meat and dairy industries, he said that there was "much more meaning to it." PETA sent him vegan dining expert chef Tal Ronnen's The Conscious Cook: Delicious Vegan Recipes That Will Change the Way You Eat, a vegetarian/vegan starter kit, and fellow music legend Paul McCartney's meat industry exposé, "Glass Walls." 
Ne-Yo has been keeping his Twitter followers up to date on his progress and has received an outpouring of support, as have animals: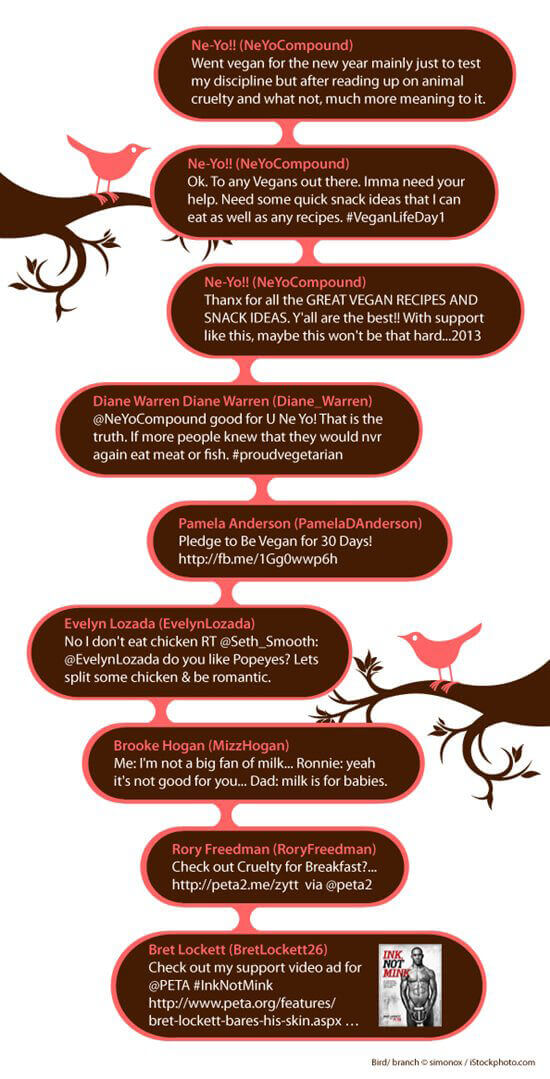 Maybe Ne-Yo will give Anderson Cooper the inspiration that he needs to help him make the switch. When Anderson invited vegan Alan Cumming onto his show, the pair noshed on meat-free chicken wings and Anderson talked about his vegan aspirations.
PETA friend Kelly Osbourne says it was her boyfriend, vegan chef Matthew Mosshart, who helped her drop pounds and feel better. "That's because he cooks for me! He's a vegan chef so he makes sure I eat healthily," she says. "I'm happy with how I look now."
Emma Stone and Andrew Garfield are happy with how their family looks now, with the addition of their new rescued dog, Ren. They took the pup in as foster parents, but it took the couple only a few days to make it official. PETA sent Ren a homecoming present of treats and toys.
To keep up with what all your favorite stars are doing for animals, follow @PETA on Twitter. 
Respond