Lettuce Ladies Put the 'Hot' in 'Hot Cocoa'
Written by January 7, 2011
|
What do bathing beauties do when they're not basking in the sunshine? They spread warmth to everyone around them with soy hot cocoa! PETA's Lettuce Ladies helped heat things up in chilly cities this week with free vegan hot cocoa and PETA's vegetarian/vegan starter kit.

Pouring cups of compassion in Portsmouth, New Hampshire.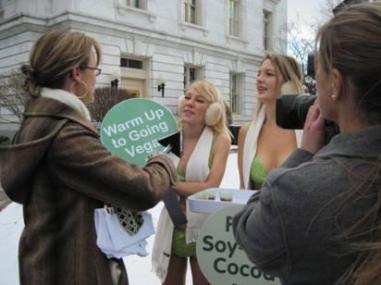 Shaking off the brrrr in Burlington, Vermont.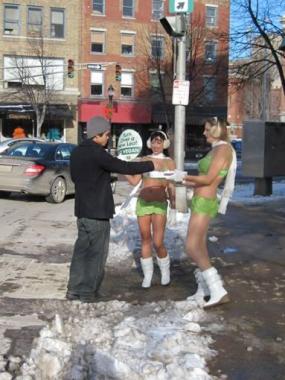 Better beverages in Bangor, Maine.
Veggie va-va-va-voom in Calgary, Alberta.
Written by Michelle Sherrow
Related Posts
Respond
Comments
If your comment doesn't appear right away, please be patient as it may take some time to publish or may require moderation.
By submitting this form, you are agreeing to our collection, storage, use, and disclosure of your personal info in accordance with our privacy policy as well as to receiving e-mails from us.