Getting a Mega-Church Mega-Healthy
Written by
April 19, 2011
|
Prompted by reports that churchgoers are more prone to obesity than those who don't go to church, PETA wants to help one of the largest churches in West Virginia—the U.S.'s fattest state—become one of the slimmest. PETA is offering Chestnut Ridge Church, a mega-church in Morgantown, vegan ads to place on their pews and a yummy meatless cookout to kick off the church's celebration of life this Easter.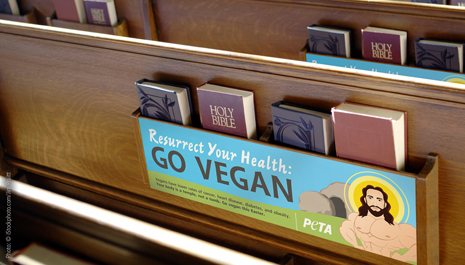 Eating a plant-based diet is the best way to combat obesity as well as cancer, diabetes, and heart disease. To "resurrect" your own health this Easter, simply take the Pledge to Be Veg for 30 Days.
Written by Michelle Sherrow
Related Posts
Respond
Comments
If your comment doesn't appear right away, please be patient as it may take some time to publish or may require moderation.
By submitting this form, you are agreeing to our collection, storage, use, and disclosure of your personal info in accordance with our privacy policy as well as to receiving e-mails from us.