Matt Bruce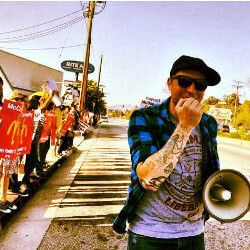 Name: Matt Bruce
Position: Campaigner
E-Mail: [email protected]
Facebook: Facebook.com/MattPETA.Bruce
Twitter: Twitter.com/MattXVX
Instagram: BigCityBruce 
Where do you work? PETA's L.A. office, the Bob Barker Building
Do you have companion animals? I have a rescued chow-chow named Bear. His previous guardian tied him up on a slab of concrete and left him outside throughout the rough northern Utah winters. When I adopted him, various parts of his face and ears were frostbitten, he was underweight, and his collar was so tight that it was embedded in his neck. Now he lives in sunny Los Angeles, sleeps on his bed all day, and is constantly spoiled with romps in the grass and plenty of treats.
What's the best part about your job? I'm constantly doing awesome things while visiting new places! The main part of my job here at PETA involves traveling across North America organizing and leading animal rights demonstrations. I've had the opportunity to disrupt a board meeting at the University of Wisconsin–Madison with Oscar-nominated actor James Cromwell in order to stand up for cats decapitated in the school's labs. I've led a protest into the U.S. headquarters of China Southern Airlines in a chimpanzee costume to protest the airline's shipments of primates to U.S. labs. (This helped result in a victory! It no longer ship primates to labs!). And I even went to Mexico City to protest cruel bullfights with more than 1,000 naked people covered with "blood"!
What's the hardest part about your job? Many people don't realize just how much work goes into each of our demonstrations and actions. It takes a lot of individual effort from various people, help from area activists, cooperation with other groups, and sacrifice. But the sacrifices are worth it if it means that people will stop buying coats made from the skin torn off screaming animals, stop supporting circus acts that viciously beat elephants with sharp bullhooks, or simply refuse to eat the bodies of animals who have had their throats cut while still conscious.
Best memory at PETA: In the summer and fall of 2012, we organized adoption events at the Bob Barker Building for chickens rescued from A&L Poultry, a hideous egg farm that closed its doors and left thousands of birds to die in severely crowded cages without food or water. More than 4,000 hens were rescued, and PETA worked with an animal sanctuary to find forever homes for some of these birds. Now they can leave the horrors of the factory farm behind and be free to dust-bathe, roam, scratch the ground, and feel the warmth of the sun on their backs—things that they were never able to do in the small wire cages and darkened sheds of A&L Poultry.
What do you like to do when you're not at the office? When I'm not on the road or in the office, I like to ride my bike through the streets of L.A., perform magic acts at punk-rock shows, and obsess over Twin Peaks and other David Lynch projects.
How You Can Help Animals
Join the Action Team
Sign Up for PETA Mobile Alerts
Help Animals Online