Pigs Still Mutilated and Killed at University of Michigan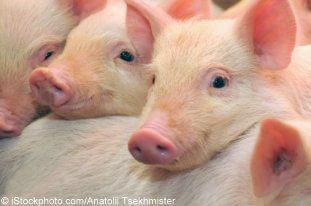 Following a year-long PETA campaign, the University of Michigan's (U-M) Survival Flight program has replaced the use of cats in cruel intubation training exercises with modern human-patient simulators.
Unfortunately, the program continues to have trainees cut holes into pigs' limbs, throats, and chests and stab needles into their bones and hearts for trauma training exercises. This still happens even though the school already uses state-of-the-art human-patient simulators to teach the same skills in other courses for nurses and physicians.
Studies by leading medical experts have repeatedly found that in addition to saving animals, the use of simulators is superior to the use of animal labs for preparing trainees to perform the lifesaving skills taught in U-M's Survival Flight course. The Air & Surface Transport Nurses Association, which is the professional organization representing flight nurses, endorses the use of simulators to teach these skills as well.
Please take a minute of your time to contact university officials and respectfully ask them to continue to modernize the Survival Flight curriculum and immediately replace the use of pigs with human-patient simulators that are already available at U-M.
Please send polite comments to:
Mary Sue Coleman
President of the University of Michigan
presoff@umich.edu

Mark Lowell
Medical Director of U-M Survival Flight
mlowell@umich.edu

Robert Neumar
Chair, Department of Emergency Medicine
neumar@umich.edu