PETA Seeks Information on Person(s) Who Stuffed a Pit Bull Into a Bag and Threw Him in the Water
For Immediate Release:
July 12, 2016
Contact:
Megan Wiltsie 202-483-7382
Asbury Park, N.J. – On Monday night after a Fourth of July fireworks show, Asbury Park residents alerted police after discovering the decomposing body of a brown pit bull inside a black nylon suitcase floating in Sunset Lake between Webb Street and Park Avenue. The suitcase was found partially submerged inside a plastic bag and also contained a button that read, "I [love] Howard University." Police suspect that the suitcase had been in the lake for one to two weeks. A necropsy indicated that the medium-sized dog was around 1 year old.
Police have yet to find any leads. That's why PETA—whose motto reads, in part, that "animals are not ours to abuse in any way"—is offering a reward of up to $5,000 for information leading to the arrest and cruelty-to-animals conviction of anyone who may have been responsible for the fatal abuse or neglect of this dog.
PETA is increasing our effort by asking people to help spread the word and put up free downloadable posters, available here, in businesses and schools, on bulletin boards, and anywhere else that they are allowed to display them.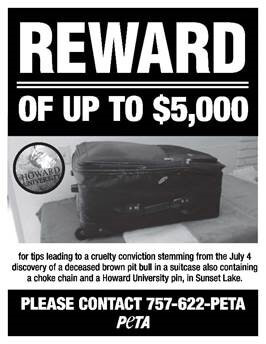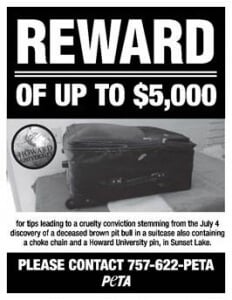 "This community needs to know whether this dog was dead or alive when he was put in this suitcase, because a dog abuser may be at large and strike again," says PETA Vice President Colleen O'Brien. "PETA urges anyone who has information about who had this dog in their possession, whether he was used in fights, and how he died to come forward now."
Anyone with information about this case is encouraged to contact the Monmouth County SPCA at 732-542-0040 or the Monmouth County Sheriff's Office at 732-431-6400.
For more information about helping animals, please visit PETA.org.