Kroger Pushed to Follow Costco's Lead and Cut Ties With Coconut Milk Brand That Uses Monkey Labor
For Immediate Release:
October 28, 2020
Contact:
Nicole Meyer 202-483-7382
Newport Beach, Cali. – Because Kroger still sells Chaokoh brand coconut milk even though a PETA Asia investigation revealed that it uses coconuts picked by chained monkeys, PETA has sent humanely picked coconuts to the company's top brass, including Newport Beach–based Executive Vice President and Chief Operating Officer Michael J. Donnelly. The delivery comes on the heels of Kroger's announcement that it's adding dozens of new products to its plant-based line—and follows Costco's announcement to PETA that it cut ties with Chaokoh.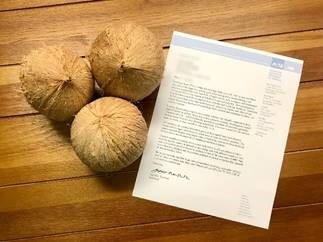 "It's totally nuts that Kroger is still selling coconut milk made with coconuts picked by monkeys in Thailand who are chained, separated from their peers, driven insane, and forced to work long hours," says PETA President Ingrid Newkirk. "PETA is calling on Kroger to stop being coconuts and say, 'So long!' to Chaokoh."
In addition to Costco's locations, more than 25,000 stores around the world—including chains Walgreens, Giant, and Food Lion—have pledged not to sell coconut products obtained through monkey labor.
PETA—whose motto reads, in part, that "animals are not ours to abuse in any way" and which opposes speciesism, a human-supremacist worldview—previously sent coconuts to Kroger CEO Rodney McMullen. The group is now also sending coconuts to Senior Vice President Mary Ellen Adcock, Senior Director of Corporate Affairs Denise Osterhues, Corporate Affairs Group Vice President Keith Dailey, and Senior Vice President of Supply Chain, Manufacturing, and Enterprise Sourcing Robert W. Clark.
For more information, please visit PETA.org or follow the group on Twitter, Facebook, or Instagram.
PETA's letter to Donnelly follows.
October 28, 2020
Michael J. Donnelly
EVP and Chief Operating Officer
Kroger
Dear Mr. Donnelly,
Greetings from PETA. We applaud Kroger for offering tasty vegan meats, cheeses, and other products for your customers, and we now urge you to take action on another issue that they are concerned about. We've sent you and several of your colleagues these coconuts in the hope of finally cracking open a dialog about reconsidering your business relationship with Chaokoh, a brand implicated in a recent PETA Asia exposé of the use of chained monkeys in Thailand's coconut industry.
Our investigation revealed that Chaokoh is part of an industry that's forcing monkeys—confined for life, sometimes with their teeth removed, always chained, and often driven insane from being deprived of everything that's natural and important to them—to climb trees in order to collect coconuts. It seems that most (if not all) of these animals are illegally captured from the forest as babies. Their training is extremely abusive.
Please visit PETA.org/Coconuts to watch the undercover footage.
More than 25,000 other stores, including Costco, have pledged not to purchase products from this company that was implicated in forced monkey labor.
We hope you will act swiftly to remove cruelly sourced coconut products from your shelves. May we please hear from you soon?
Very truly yours,
Ingrid E. Newkirk
President