PETA Urges Union County Sportsmen's Club to Grant Morbidly Obese Bear Retirement to a Reputable Sanctuary—and Offers to Foot the Bill
Contact:
David Perle 202-483-7382
Liverpool, Pa. – "Dillan Is Suffering. Please Don't Stop Here." That's the message on a new PETA billboard now up near the Union County Sportsmen's Club that alerts drivers to the arthritic Asiatic black bear currently on display in a cramped, concrete-floored cage at the roadside zoo. The ad is the latest action in a robust PETA campaign to secure his release to a reputable sanctuary.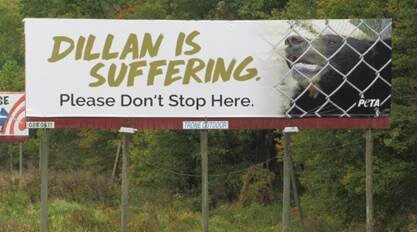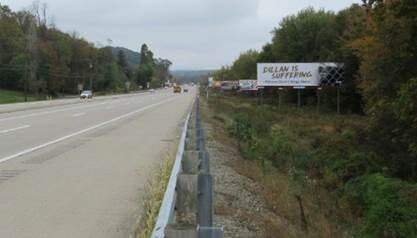 "This poor bear is suffering every minute he spends trapped in a filthy cage at the Union County Sportsmen's Club," says PETA Director of Captive Animal Law Enforcement Brittany Peet. "The club should do the right thing and let PETA arrange Dillan's transfer to a naturalistic habitat, where he would be able to swim, dig, forage for food, and receive the expert care that he desperately needs."
According to a U.S. Department of Agriculture (USDA) inspection report from July, the club was cited for failing to provide Dillan—who is about 400 pounds overweight—with adequate veterinary care after he was found with hair loss along his sides and hindquarters. In August, PETA submitted a complaint to the USDA that included photos and video footage documenting that Dillan continued to suffer from hair loss, irritated skin, and morbid obesity as well as broken teeth, discolored gums, and significant gum recession, which are evidence of painful, advanced dental disease. 
PETA—whose motto reads, in part, that "animals are not ours to use for entertainment"—is also running a television ad alerting viewers to Dillan's condition on FOX43 every Tuesday and Thursday during the evening news, as well as a radio ad that's currently airing repeatedly on WRKK and WRAK through the end of this month.
The billboard is located on Route 11/15, south of Liverpool. 
PETA opposes speciesism, which is a human-supremacist worldview. For more information, please visit PETA.org.
#