Both on and off Duty, Officer Garibaldi Took Care of Pup Until She Was Adopted—by a Station Dispatcher
For Immediate Release:
June 1, 2016
Contact:
Megan Wiltsie 202-483-7382
Lakeland, Fla. – A Compassionate Police Department Award is on its way to the Lakeland Police Department after Officer Kareem Garibaldi found a puppy running loose during the early morning hours of Saturday, May 21. Officer Garibaldi gave the puppy food and water at the police station and at home, attempted to find her owners both in person and on social media, and even—while off duty at the end of his third exhausting 12-hour shift in a row—took her for a veterinary checkup.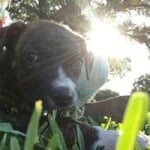 Photos courtesy of Lakeland Police Department
When Officer Garibaldi returned to the station with the puppy, now named Hope, a dispatcher saw her, fell in love, and adopted her.
"Officer Kareem Garibaldi and the rest of the officers and staff at the Lakeland Police Department made sure that this little puppy got care, affection, and even a loving adoptive home," says PETA Vice President Colleen O'Brien. "PETA hopes their kindness will inspire others to come to the aid of animals in need."
PETA—whose motto reads, in part, that "animals are not ours to abuse in any way"—notes that not all animals are lucky enough to find a home. More than 6 million unwanted dogs and cats enter U.S. animal shelters every year, and roughly half are euthanized because there aren't enough good homes for them. The best solution is to adopt and get animal companions spayed or neutered.
The Lakeland Police Department will receive a framed certificate and a box of delicious vegan cookies.
For more information, please visit PETA.org.