For Immediate Release:
February 17, 2016
Contact:
Catie Cryar 202-483-7382
While stumping for Jeb Bush this week (video available here), George W. Bush shared his "most interesting" memory of all from the 2000 campaign trail: While the soon-to-be president was eating bacon for breakfast, a PETA supporter dressed as a pig dumped a truckload of manure in front of the restaurant beneath a banner proclaiming, "Meat Stinks."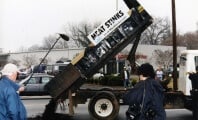 Today, PETA is rushing the former president a care package of delicious fakin' bacon with best wishes for a long retirement—which vegan foods will help bring about.
Below, please find a statement from PETA President Ingrid Newkirk:
George W. Bush described PETA's 2000 "Meat Stinks" protest as a "sign of things to come," and he hit the nail on the head. A new report shows that slaughterhouses are the biggest toxic polluters of waterways in the country, and the World Health Organization recently put processed meats like bacon and ham in the same category of cancer risk as cigarettes and asbestos. We wish the former president well, and we're sending him a package of delicious vegan fakin' bacon to help him enjoy a healthy and long retirement. (Vegetarians live, on average, seven years longer than meat-eaters, and vegans do even better.)
PETA's motto reads, in part, that "animals are not ours to eat."
For more information, please visit PETA.org.