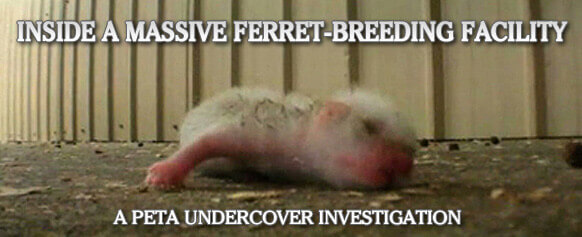 Tuesday, April 26, 2011
I saw several dozen ferrets with newborn ferrets suckling them inside of the dishpans.  Other ferrets gave birth at the rear of the cages, where they typically defecate; because of this, the newborns fell through the wire mesh floor and fell to the cement floor below.  I saw over 100 newborns squirming in feces that were on the floor or wiggling on the cement.  I saw three newborns who were hanging from the wire mesh floors and were suspended in the air by what I suspected was afterbirth. [Senior employee 1] did not acknowledge any of these newborns, so I asked her what we were supposed to do about those who had fallen to the floor or were suspended in mid-air. She said … "Just leave them." … After finishing the "weaning" chores approximately two hours later, [Senior employee 1] showed me how to "dry feed" ferrets. … We were to push the carts around and scoop the dry food out and fill the ferrets' food containers as we pushed. … As she moved her cart through the aisles, she began running over live newborns who had squirmed into the aisles. I saw [Senior employee 1] run over at least four newborn ferrets with the cart. After she ran over the second newborn, she looked down and kicked the ferret's remains out of the aisle. … She proceeded to run over at least two further newborn ferrets. Blood squirted from the young ferrets' bodies and I saw their internal organs on the cement floor.
Monday, May 16, 2011
I saw [Senior employee 1] perform what I suspected was a sterilization surgery on a female. I saw [Senior employee 1] tug and pull at the young ferret's internal organ(s) for at least a minute while the weanling cried in apparent pain and thrashed about in [Senior employee 1]'s hand. After she finished pulling out and cutting off a portion of the weanling's organ(s), [Senior employee 1] looked at me and said of the ferret, "She won't remember it," and then laughed.
 Tuesday, May 31, 2011
Approximately four of the live newborn ferrets whom [Triple F's co-owner] cut loose from umbilical cords appeared deformed, as their intestines were visible and outside their bodies. [Triple F's co-owner] told me that these ferrets were "no good" …. About 45 minutes later, I saw her gather these live newborn ferrets from the tub. … I saw [Triple F's co-owner] look at the live newborns while picking them up out of the tub and when putting them in the incinerator. I saw her place these approximately four live newborn ferrets inside the incinerator; she then closed the lid of the incinerator ….
Monday, June 13, 2011
When I was [caring for] female ferrets suspected of having mastitis in barn one, I found one who appeared to be near death. … When I picked her up, it looked as if her abdomen had rotted from the inside out. There was a large, open wound that covered most of her abdomen. The wound looked like black sludge and the ferret smelled like rotting flesh. There was quite a bit of blood and her internal organs were exposed.  She looked very thin and dehydrated, as much of her flesh was sagging off of her body.  Her eyes looked sunken and her breathing was shallow. … I asked [Employee 2] if there was something that could be done for this ferret, as she was obviously suffering and barely alive.  [Employee 2] looked at her and said, "Maybe she will get better," and then told me to … "[l]eave her."
Thursday, June 16, 2011
While I was caring for ferrets and their approximately four-week-old offspring in barn two, I found one ferret who had one kit confined to a cage with her. … The kit appeared to be barely alive; her eyes were closed and swollen and her head looked very large in comparison to her body.  As I gently picked her up and out of the cage, her head was cradled inside of the palm of my right hand. In picking her up to check for signs of a staph infection, I gently touched her forehead with my double-gloved left index finger. Almost instantly, her eyes seemed to explode. A large amount of a slightly-green, pus-like substance came from both of her eye sockets, which seeped this substance for a minute or more. There appeared to be a tremendous amount of pressure built up inside the young ferret's head and the pus-like substance drained rapidly. The ferret appeared to die quickly, in my hands, in less than a minute; she stopped breathing and became limp.
 Friday, June 24, 2011
I found one female who was approximately six weeks old who appeared to have a rectal prolapse. I … saw approximately ¾" of an internal organ protruding from her anus; she was bleeding from the anus, appeared very small for her age and was confined in a cage with eight other, larger, and apparently healthy/unremarkable female weanlings. The protrusion looked to be the approximate size of a grape. … I informed [Senior employee 3] … of this weanling's condition. … [Senior employee 3] looked at me and said, "It's probably a prolapse," and, using the term workers use to refer to killing ferrets, added, "I am not x-ing right now. As a matter of fact, I am not x-ing until next week." She then walked away from me. I took this to mean that this ferret would be left to suffer in this condition until at least "next week," if she did not die before then.
Thursday, July 7, 2011
While I was in barn six at about 1 p.m., I asked [Triple F's co-owner] if she would euthanize the female weanling whose bloody internal organ(s) were protruding from her abdomen and who [Triple F's acting supervisor] suggested last Wednesday had been "cut … too deep" when being sterilized and/or de-scented by [Senior employee 3] on June 27. [Triple F's co-owner] told me that she was going to "x" today "anyway," so she would euthanize this weanling. About 30 minutes later, I saw [Triple F's co-owner] "x-ing" ferrets in barn one; she then left the barn. At about 1:45 p.m., [Triple F's co-owner] was leaving the facility and told me to have a good night. I checked on the weanling in the x-bin and found that all ferrets who had been there earlier in the day were still there and alive. The ferret whom she agreed to euthanize was still inside, barely alive. [Employee 4] told me that she had asked [Senior employee 3] on several occasions to euthanize weanlings who she has felt were suffering.  [Employee 4] said that every time she asks, [Senior employee 3] tells her to "leave them."
Monday, July 11, 2011
When I entered barn three to care for weanlings, I noticed a strong smell of rotting flesh.  I scanned the cages near the weanlings and found a dead ferret within the group of ferrets who were supposed to go to "the wire" this week. The ferret's remains looked as if they were melting or liquefying. The flesh was hanging from his/her face and portions of his/her body appeared to have been eaten. I noticed that this cage had no food available for the remaining seven live ferrets confined and exposed to the carcass.  I removed the live ferrets from the cage and was bitten five times; the bites pierced my skin. I suspect that the ferrets were aggressive in part due to hunger. It appeared to me that the deceased ferret had most likely been dead for more than one day, as the odor of decomposition from the remains was very strong, and when I removed them from the cage, the body split at the chest area into two pieces. The lower portion of the body appeared as if it had "melted" into the cage itself.  I was able to remove the remaining half of the body and took the ferret's remains to the incinerator. I was unable to determine which breeding ferret this was, so I left a note for [Triple F's supervisor], who was not at the facility, about my discovery.
Wednesday, July 27, 2011
[Senior employee 3] trained me on how she sterilizes and de-scents ferrets and tattoos their ears. We were working with female weanlings who were between six and eight weeks old. … [Senior employee 3] took a small razor, with no handle, and cut into the remaining three weanlings' abdomens. … [Senior employee 3] then showed me how she "dig[s] around" the inside of the ferret looking for the ovaries with tweezers.  Once she finds the ovaries, [Senior employee 3] said that she pulls them out, but "not too hard because it pulls out their insides." … After this, she cut the ovaries off with the razor, returned the exposed organ(s) to the body cavity and went on to the next ferret. [Senior employee 3] did not suture what remained of uterus and cervix. [Senior employee 3] used a single razor to cut into the latter three weanlings and the same hemostats and tweezers on all six of these weanlings; she did not sanitize them between animals.
After cutting ovaries out of all six of these weanlings, [Senior employee 3] went back to the first one she sterilized and showed me how she de-scents them.  She first took a pair of hemostats and clamped a small portion of the anus. … She took the same razor that she used to cut into all six weanlings while removing their ovaries—which she had not cleaned—and … cut out their anal sacs. [Senior employee 3] re-used her instruments between animals without cleaning any of them. … When she was all done with the above steps, [Senior employee 3] flung the weanlings up to 1 [foot] through the air into a tub. … [Senior employee 3] then took a disposable razor and shaved the three weanlings' abdomens and the areas around their anuses. … She told me … "you will shave off nipples, but don't worry—they grow back." … The last weanling whom [Senior employee 3] removed ovaries and anal sacs from woke up while she was finishing de-scenting her. [Senior employee 3] said that she was all out of [anesthetic] and said to the ferret, "I know it hurts." … This weanling cried constantly in apparent pain, for three to five minutes, while [Senior employee 3] sutured and tattooed her. [Senior employee 3] tossed her in the bin with the other weanlings.
[Senior employee 3] told me that lately, she has been "killing more males than females" while removing their anal sacs and reproductive organs. … She said that she enjoys sterilizing the males because when she does it, "I think about all of those asshole men out there and cut them a little more."
Monday, August 8, 2011
While I was caring for weanlings in barn six at about 8:45 a.m., I found one weanling who was between six and seven weeks old and had what appeared to be a serious eye infection. Neither [Triple F's supervisor] nor [Triple F's acting supervisor] was at the facility. [Employee 2] was in the barn, so I showed her this weanling. [Employee 2] instructed me to clean the weanling's eye with a wet paper towel. I did as she instructed and the eye seemed to explode. A large amount of green pus and blood shot out of the eye or from around it. I informed [Employee 2] and requested that this weanling be euthanized; [Employee 2] ignored me and walked away. I returned the ferret to the cage. I told [Employee 2] that I thought that the ferret was suffering, but she shrugged her shoulders and did not say anything in response. I informed [Triple F's acting supervisor] of this ferret's condition when I next saw her at the facility, at about 9:30 a.m. [Triple F's acting supervisor] said that she would "look at him." [Triple F's acting supervisor] told me that the ointment I had been applying to such ferrets' eyes had not arrived to the facility. I checked on this weanling at 11:55 a.m. and found that (s)he was still inside the cage, with about seven other weanlings.