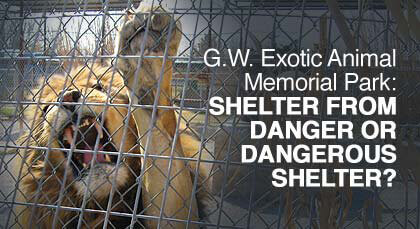 The investigator's log notes read like a journal from hell. Between February and June 2006, PETA's investigator documented incompatible animals who were not separated, animals seriously injured from fighting, food dishes teeming with maggots, hungry animals who went without food, animals who were abused and beaten by staff, rampant breeding, and gun-toting employees ready to implement a shoot-to-kill contingency "plan" for escaped animals.
Animals were routinely hit, punched, kicked, sprayed with cold water, struck with rakes and shovels, and blasted with fire extinguishers to break up frequent fights.
February 27: Watched [C1] pick up a chicken by the hind legs and swing the animal around.
February 28: [R] and [C2] were throwing rocks in the direction of pigs, rams, goats and deer. … They also grabbed sheep by the horns and tossed the animals' heads around by their horns.
PETA found dead, dying, and injured animals as well as incompatible animals who attacked and harassed one another.
March 13: The 1-month-old lion was in the cage up front again today. Again, he seemed very upset and was crying out a lot. … The little cub had no water all morning and most of the afternoon.
March 13: One of the tiger cubs that had sustained puncture wounds from a male tiger right after birth died this morning due to the injuries. … I'm sure that he was in great pain [and I believe that he was] not euthanized due to the money that the baby cub would bring the park.
Hungry, skinny animals went days at a time without food. Some starving animals could only watch as animals in nearby cages were fed while their own food dishes remained empty.
February 27: They only fed the pregnant cats today; no others were fed because there was not enough meat.
February 28: Today was the third day that the cats (who are not pregnant) had not been fed. The bears were not fed either today.
Read more about inadequate feeding >
GW produces litter after litter of tigers, lions, bears, and other exotic animals. Newborns were regularly taken away from their mothers.
February 27: There are a lot of pregnant cats in the park. They are definitely breeding the cats to produce cubs. Overheard [J1] talking about trying to buy a white tiger to start the bloodline. They are also trying to breed ligers and tigons, mixtures of lions and tigers.
February 27: Vet tranquilized mother bear (with a dart) to get her new, 4-week-old cubs out of the enclosure.
PETA's investigator was often required to work for more than 12 hours per day in dangerous conditions for little pay. Many employees simply stopped showing up. GW also attracted plenty of unsavory characters.
March 7: [C1] will no longer be working with us. When we got in to work this morning, DEA, ATF, U.S. Marshals, and SWAT teams were there to pick him up on an undercover drug bust.
March 21: [P] came back. Apparently, he was taken out to California by U.S. Marshals to be questioned for a string of murders that happened there a few decades ago.