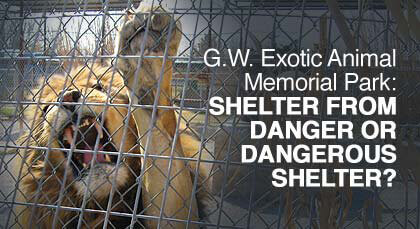 Legitimate sanctuaries do not breed, buy, sell, or trade animals. True sanctuaries provide animals with lifetime care and operate under conditions that far exceed the minimal standards of the federal Animal Welfare Act. On the other hand, a pseudo-sanctuary, such as G.W. Exotic Animal Memorial Park,breeds animals to keep itself supplied with cute babies to draw visitors to the park, profits by using them for public photo opportunities, and buys, sells, and trades animals.
GW is fully aware that breeding only makes a bad situation worse and publicly denies fueling the exotic animal trade, explaining away births as "accidents":
"… I do not in any way breed, sell, ship out, lease, or loan out any of my animals …"
—[J1], letter to U.S. Fish and Wildlife Service, December 6, 2002
"[A]ll of our cats are fixed or split up so they can't breed, … we do not buy, sell, or trade any animal…."
—[J1], e-mail message to PETA, August 30, 2003
"I never sell or donate to anyone."
—[J1], letter to Oklahoma Department of Wildlife Conservation, Renewal of Commercial Wildlife Breeders License, November 21, 2001
What our investigator saw as well as documents we obtained reveal an orchestrated breeding program that produced dozens and dozens of newborns and animals shipped to facilities around the world. Following are a few examples since 2001.
GW sold one male and two female lion cubs for $1,500 each to the Amarillo Zoo in Texas. All three were born at GW in September 2005 and were declawed before they were 1 month old. Parents of the cubs were all GW residents who were allowed to breed.
TV news reported an astounding 18 new tiger cubs and one very pregnant tiger at GW. The pregnant tiger, Sasha, was GW's first rescued, and never spayed, tiger.
A female cougar, born at GW on March 14, 2000, was shipped to the Seoul Grand Park Zoo in the Republic of Korea.
A cougar, born at GW, was shipped to the Sofia Municipal Zoo in Bulgaria.
Two cougars born at GW were shipped to the Zoological Park Organization of Thailand.
GW reportedly tried to sell an infant baboon named Savannah, born April 24, 2003, to an undercover activist who visited the facility.
GW sent a lion cub to Capital of Texas Zoo (Cedar Creek, Texas). The cub was then loaned to Bobbie Colorado, who appears weekly on an Austin TV station. While in the custody of Bobbie Colorado, the lion cub was killed by a dog.
GW transferred a tiger named Blondy to the Hillcrest Zoo, a roadside zoo in Clovis, New Mexico, that has been repeatedly cited for a multitude of violations of the Animal Welfare Act, including failing to provide sufficient food to three zebras who all died within a two-day period.
In 2003, GW obtained four snakes, four flying squirrels, two sugar gliders, and 10 alligators from Strictly Reptiles, a Florida wholesale distributor of reptiles.
GW has purchased animals including a bear cub, a tiger cub, miniature horses, and birds from exotic animal auctions, such as Lolli Bros., which states on its Web site: "From Apes to Zebra—We sell it all!! In addition to 'live' animal sales, we also offer a phenomenal selection of excellent of Taxidermy [sic] at each sale."