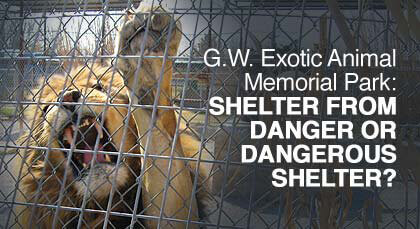 Below are just a few of the animals who suffered and sometimes died at G.W. Exotic Animal Memorial Park:
Julie, the Three-Legged Lion
On his first day on the job, PETA's investigator met Julie, a three-legged lioness, who had a bloody, raw, and gaping hole where her right front leg used to be. Julie had been attacked by two tigers who literally chewed and tore her leg off and then ate it. The remaining stump of her leg had to be amputated and when she pulled out the stitches, Julie's open wound went untreated. Though she moaned and whimpered for days, she was given nothing for pain. Julie languished in a small and barren indoor cage on a concrete floor with nothing more than a small towel for comfort. Although she was bred and born at the zoo, [J1] tells people that he "rescued" Julie and that she was injured before coming to the zoo.
'The Vegas Tigers'
GW's Holiday 2005 newsletter reported that the Fercos Bros., a Siegfried & Roy wannabe magic act in Las Vegas, gave the park two male tigers who had "outgrown" the stage. Two days after PETA's investigator started working at the park, the "Vegas tigers," as they were called, were killed by lethal injection because staff decided they were "mean." Reportedly, the tigers' teeth were cut out, and one was decapitated and his head given to the veterinarian's husband to be mounted. When the Fercos came to visit the tigers in June, they were told that the cats were killed when lightning struck their cage during a storm.
Horses
Two injured horses given to the park suffered horribly before their deaths. One had a broken leg and lay in a field for more than a week, barely clinging to life, engulfed in pain and suffering, with flies swarming around the numerous open sores on his body. When he finally died, he was fed to the lions and tigers. The second horse arrived with an enormous open sore on his tail and was found dead three days after his arrival Park employees said that the horses could not be put out of their suffering with a humane lethal injection because they intended to feed them to the park's cats. They had intended to kill them by gunshot at a time when they thought the USDA inspector would not be likely to visit.
Oreo the Goat
Always curious and eager for food, a goat named Oreo was constantly kicked aside by staff. One day, PETA's investigator found Oreo dazed and stumbling around with one of his horns dangling by just a shred of skin and his brain exposed. Oreo was never given any veterinary care for his bloody, gaping wound, and days later he was shot in the head and fed to the tigers.
Camels
A tiger escaped from his enclosure and attacked and seriously wounded a camel, causing puncture wounds to both front legs and one rear leg and severing a tendon. Three weeks later, GW could not provide records to the USDA to indicate that the camel was receiving any veterinary care. GW purchased another camel, a 1-month-old baby named Humphrey, who cried incessantly for his mother and nearly hung himself because of the unsafe conditions.
Primates
Chimpanzees Lilly and Jojo were acquired with the hope that the two would produce babies for use in photo ops. Their tiny cement cage afforded them no opportunity for adequate exercise or to express natural behaviors. Jojo passed the time fighting with the baboon in the adjoining cage, and employees regularly gave Lilly lit cigarettes. Not surprisingly, when a careless employee failed to lock a cage, the two chimpanzees took the opportunity to escape and ended up loose in the building attached to their enclosure. PETA's investigator helped hold the door closed as Jojo repeatedly threw himself against it in an effort to escape to the outdoors.
Bears
In 2001, Frank, Tesch, and Lyra, three bears traveling with a Russian circus performer, were confiscated by state authorities, taken to GW for housing, and, ultimately, left there. Lyra was reportedly killed by a tiger when a careless employee left a gate open between the animals' cages.