For the past 65 years during Yellville, Arkansas' annual "Turkey Trot Festival," residents have hurled live turkeys out of airplanes at high altitudes for the "pleasure" of watching the wild birds—who naturally only fly short distances at low altitudes—drop to the Earth. Many are badly injured or killed, and others are tackled and taken home to be eaten for Thanksgiving dinner. But this year, not only were no turkeys tossed, two lucky birds were also rescued and are now living in a loving home!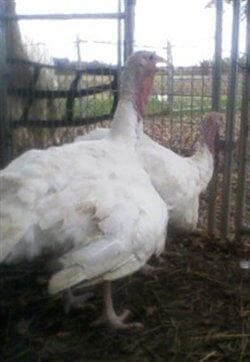 The Federal Aviation Administration (FAA) swarmed the area, promising that any pilot caught throwing turkeys would risk losing his or her license. Apparently, the would-be turkey-tossers decided it wasn't worth the risk—not one turkey was dropped! PETA is also offering a $5,000 reward (which still stands) for information leading to the arrest and conviction of anyone caught throwing turkeys out of airplanes.
To "get back at PETA" for objecting to this cruel tradition, one woman tried to buy two flightless, domesticated turkeys so that she could hurl them from the roof of the town courthouse! A PETA activist quickly intervened, warning the sellers that they would be aiding and abetting in a crime by selling the birds for this purpose, and she convinced them to give the birds to her instead. After getting veterinary care for one of the birds, who had suffered injuries to her face and neck, likely from abuse, PETA found the birds a wonderful home. Now named Lori and Walfredo, the turkeys are living the good life on a spacious farm with a loving family.
Written by Michelle Sherrow