By the time PETA learned that a tiny kitten had become trapped inside a statue of President Abraham Lincoln at a museum in Florida, concerned folks, including the local humane society and fire department, had attempted a variety of methods to rescue him, unfortunately without success.
The frightened kitten was trapped a few feet down with only a tiny hole through which his helpers could pass food and water. The only way to rescue him would be to break open the statue, but the museum owner balked.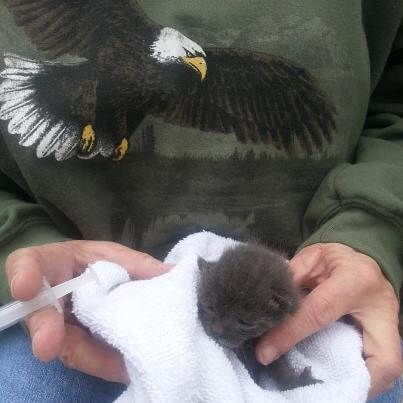 PETA's caseworker spoke to members of the museum owner's family and warned them that he could face abandonment charges. Voilà! The next morning, the owner let the fire department cut a hole in the statue in a rescue worthy of the Great Emancipator himself. The kitten—now named Little Abe—is being fostered until he is healthy enough to be adopted into a permanent home.
Little Abe's rescue serves as a reminder of the importance of perseverance. As Lincoln once wrote, "Always bear in mind that your own resolution to succeed, is more important than any other one thing." If an animal is in danger, never take "no" (or even dozens of them) for an answer. Keep trying until help arrives.