Trendsetting U.K.-based retailer Topshop teamed up with PETA U.K. to make over the window of its Oxford Street flagship store for the weekend and send a message to shoppers that exotic skins are not in. (Take that, Beyoncé.)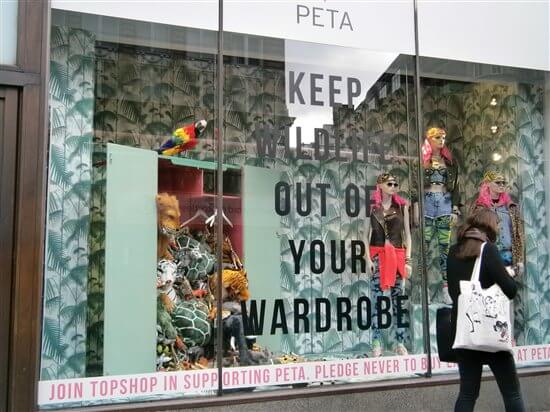 In order to make handbags, shoes, and Super Bowl halftime outfits, snakes are commonly nailed to trees and skinned alive, and alligators and lizards are bludgeoned with hammers. It can take several agonizing hours for the animals to die, usually from shock or dehydration. Watch PETA's shocking exposé, narrated by Joaquin Phoenix, to learn more about the suffering that lies behind those crocodile backpacks and python pumps. Reptiles may be cold-blooded, but wearing their skins is cold-hearted.
Please follow Topshop's lead (it doesn't sell fur or exotic skins) and pledge to keep wildlife out of your wardrobe.