As Agent 007, Sir Roger Moore battled the bad guys—but as a real-life Knight of the British Empire, Moore has spent the past several years battling the cruel foie gras industry.
When Moore heard about PETA Europe's campaign to urge Selfridges to stop selling foie gras—he sent a private letter to Selfridges' owner, Galen Weston, offering to buy up the company's entire remaining stock of the cruelly produced food if Weston agreed never to restock it again.
Sir Roger Moore still reigns as our favorite James Bond.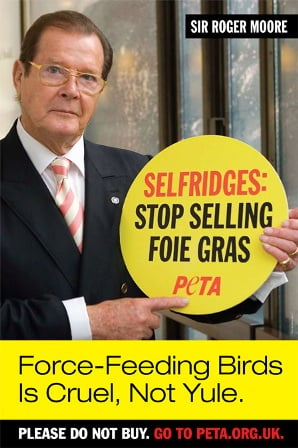 Always the classy gentleman, Moore gave Weston the chance to make this deal behind the scenes—but Selfridges has not responded to Moore's generous offer, so he has taken it to the airwaves. Check out his recent interview on the topic.
Written by Liz Graffeo