The next time you hit a mall owned by Simon Property Group, you'll probably find plenty of shoes, sweaters, and giant pretzels—but what you won't find are whips and chains. That's because after meeting with PETA and hearing from countless concerned shoppers who responded to our action alert, Simon—the largest real estate company in the country—has banned all exotic-animal exhibits at all of its properties. For enacting this lifesaving policy, Simon has been given a PETA Proggy Award ("proggy" stands for "progress") for Best Animal-Friendly Real Estate Company.
If you've been to a local mall, chances are pretty good that it's a Simon property, since the S&P 500 corporation owns more malls in the U.S. than any other company. Simon's new policy means that exhibitors such as Carson & Barnes that haul elephants and tigers around in trucks from one parking lot to the next will have to set up shop elsewhere—or, hopefully, nowhere. Expanding on the company's compassion footprint, earlier this year, Simon demanded that the Iditarod remove its name as a sponsor of the deadly race.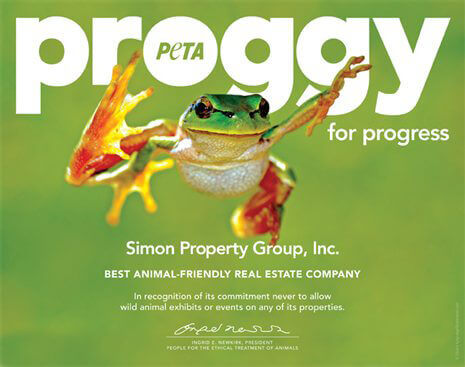 Please thank CEO David Simon for making the right decision and let him know that you'll be sure to shop at Simon malls.
Written by Jennifer O'Connor