Update: After the Australian RSPCA was at last permitted to board the disabled ship, they discovered that at least 200 sheep had already died. The surviving sheep are being unloaded and sent to a feedlot, a process that is expected to take several days. Australia's agriculture minister acknowledged that hundreds of sheep had died but shrugged off the deaths as being "expected."
The following was first published on August 16th.
For the past week, 67,000 sheep have struggled to survive inside a crowded, filthy multitier ship in Australia. We're betting that not all of them have made it. The sheep―either discarded by the wool industry or bred for meat―were bound for slaughter in the Middle East, a grueling journey, but when the ship experienced mechanical problems, the captain turned the ship around and returned to Australia.
Now the ship is sitting at  the dock, and the sheep have been left on board to suffer in cramped quarters, mired in their own waste. Eventually, one supposes, it will be back out to sea again for these unfortunate animals.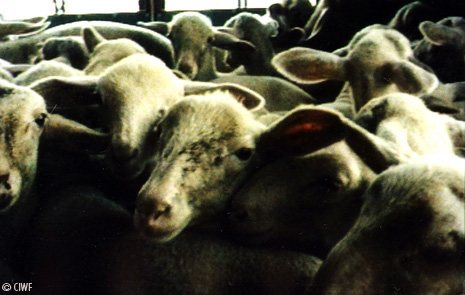 The voyage from Australia to the Middle East can take weeks, during which time many sheep commonly starve to death, are trampled, or become ill and die, their bodies tossed overboard. Upon arrival, the survivors are dragged from the ship, thrown into the backs of trucks, and driven to slaughter, where they have their throats cut while fully conscious.
Please urge Australian Prime Minister Julia Gillard to put a stop to the immense suffering endured by millions of sheep and other animals every year by banning live export. 
Written by Michelle Sherrow