So, Burger King has announced that it's releasing a cologne called "Flame." And no, it's not just for gay guys. They describe it as—get this—"the scent of seduction with a hint of flame-broiled meat." Yeah, because there's nothing sexier than grilled flesh … but wait, Jeffrey Dahmer isn't with us anymore, so who is this for?
Well, PETA likes this idea but thinks it doesn't go far enough. Why start at the grill? That's why we are launching our own fragrance called "GORE," with the tagline "Eau de Mort!' Take just one whiff, and you'll be reminded of who they're cooking over there in fast-foodville (or wearing, in this case). What exactly does it smell like? Meat, naturally! And, for authenticity, our scent even includes a maggot in each bottle, just to make the experience realistic.
So, how do you feel about GORE? It'd make a lovely holiday gift for any suspected necrophiliac.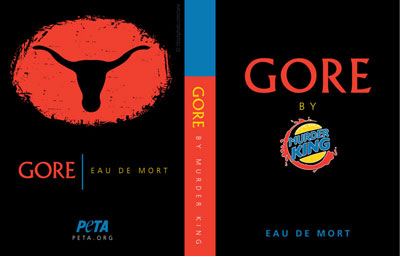 Front of our GORE package.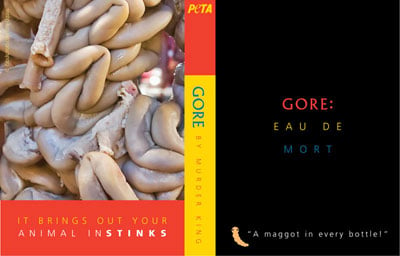 Inside of our GORE package.
Written by Lianne Turner