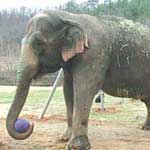 I just got this email from Debbie Leahy, the director of PETA's Captive Exotic Animals Department:
Sad news. A dear friend, Delhi, passed away on Tuesday, March 11. Delhi was the first elephant confiscation in U.S. history. After an extensive campaign by PETA, the USDA seized Delhi from Hawthorn Corporation and transferred her to The Elephant Sanctuary in Tennessee after determining that she was in imminent danger from lack of veterinary care. Delhi had been suffering from abscesses, lesions, osteomyelitis, and severe chemical burns to her feet. She was originally captured in India and acquired by Hawthorn in 1974. At the sanctuary since November 2003, Delhi enjoyed leisurely grazing in the sun, playing with toys, and napping on a shady hillside with the companionship of many other elephants. She was lucky to have kind, nurturing care in her final years.
Sad news indeed. But it's comforting to reflect that she escaped the horrible fate of most elephants held in captivity for her last years.