Remember when PETA became an Hermès shareholder? Well, now we're moving on to phase two of our activism process by attending the company's annual meeting, where we'll call for it to stop selling exotic-skin bags, watchbands, and shoes.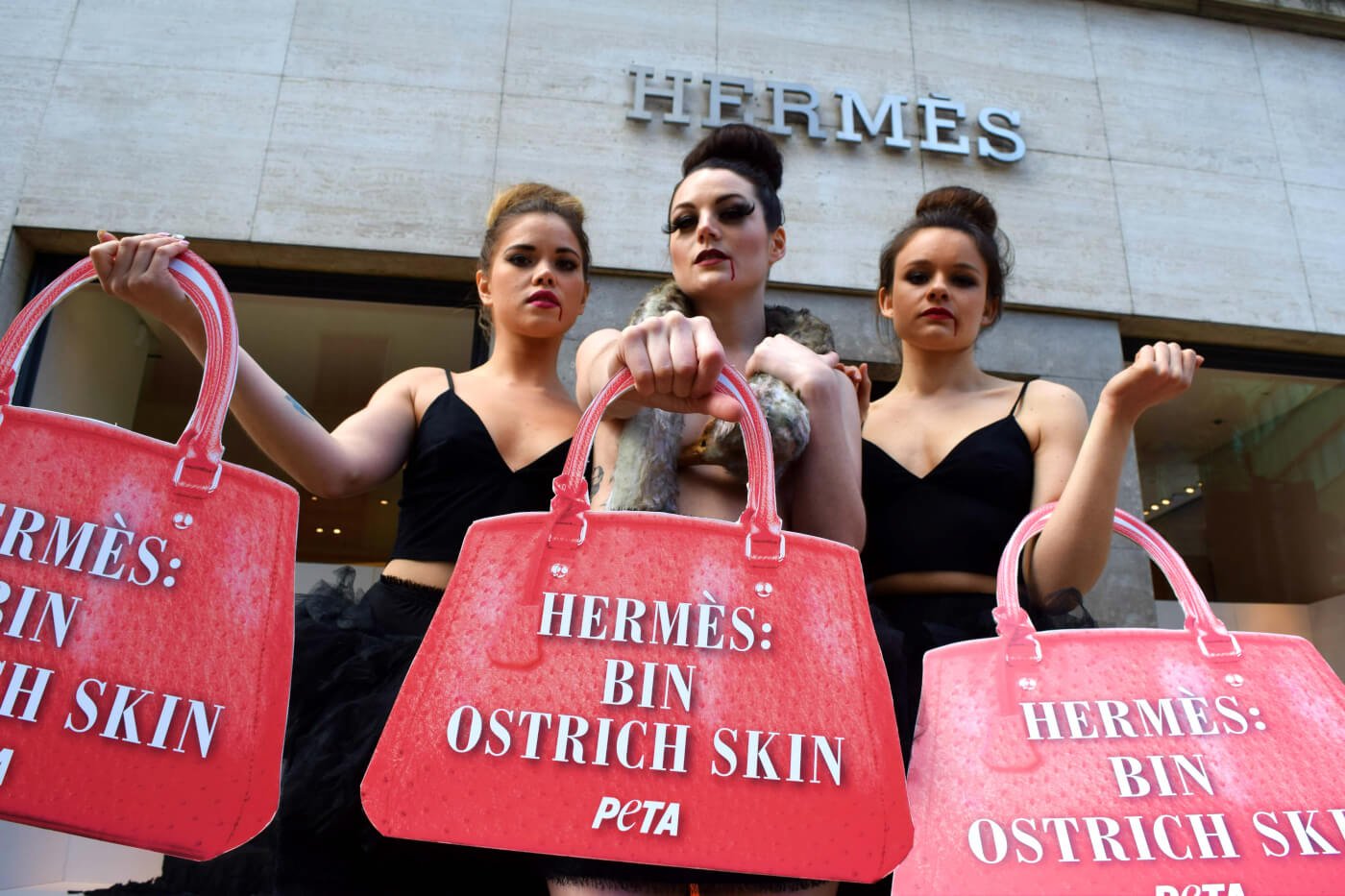 Hermès creates some of the world's most expensive and well-known fashion accessories made of exotic skins—and many consumers still have no idea how much deprivation, violence, and environmental damage is involved in manufacturing such items. If they saw firsthand that countless animals were hacked apart to make handbags every year, they would lose their lunch.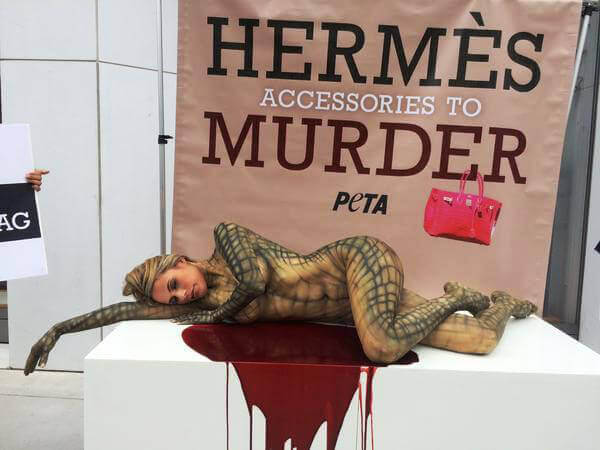 No sensitive living being should be crammed into a filthy pit and hacked apart while still alive.
A PETA exposé of the reptile-skins industry revealed the appalling conditions in which alligators and crocodiles were raised and killed for Hermès' "luxury" Birkin and Kelly bags and watchbands.
Alligators at a farm in Texas that supplied an Hermès-owned tannery were kept in fetid water in dank, dark sheds and denied sunshine, fresh air, clean water, and even basic medical care for their entire shortened lives. A worker cut into the necks of more than 500 conscious alligators as they struggled to escape. Some were flailing and kicking for minutes after workers tried to kill them.
On a farm in Zimbabwe, tens of thousands of Nile crocodiles are confined to concrete pits from birth to slaughter. In the wild, these animals can live to be up to 80 years old, but at this facility, they're slaughtered around the age of 3. Many belly skins are sent to an Hermès-owned tannery where they end up becoming items such as handbags that can cost $50,000 or more. It takes two or three crocodiles to make just one handbag.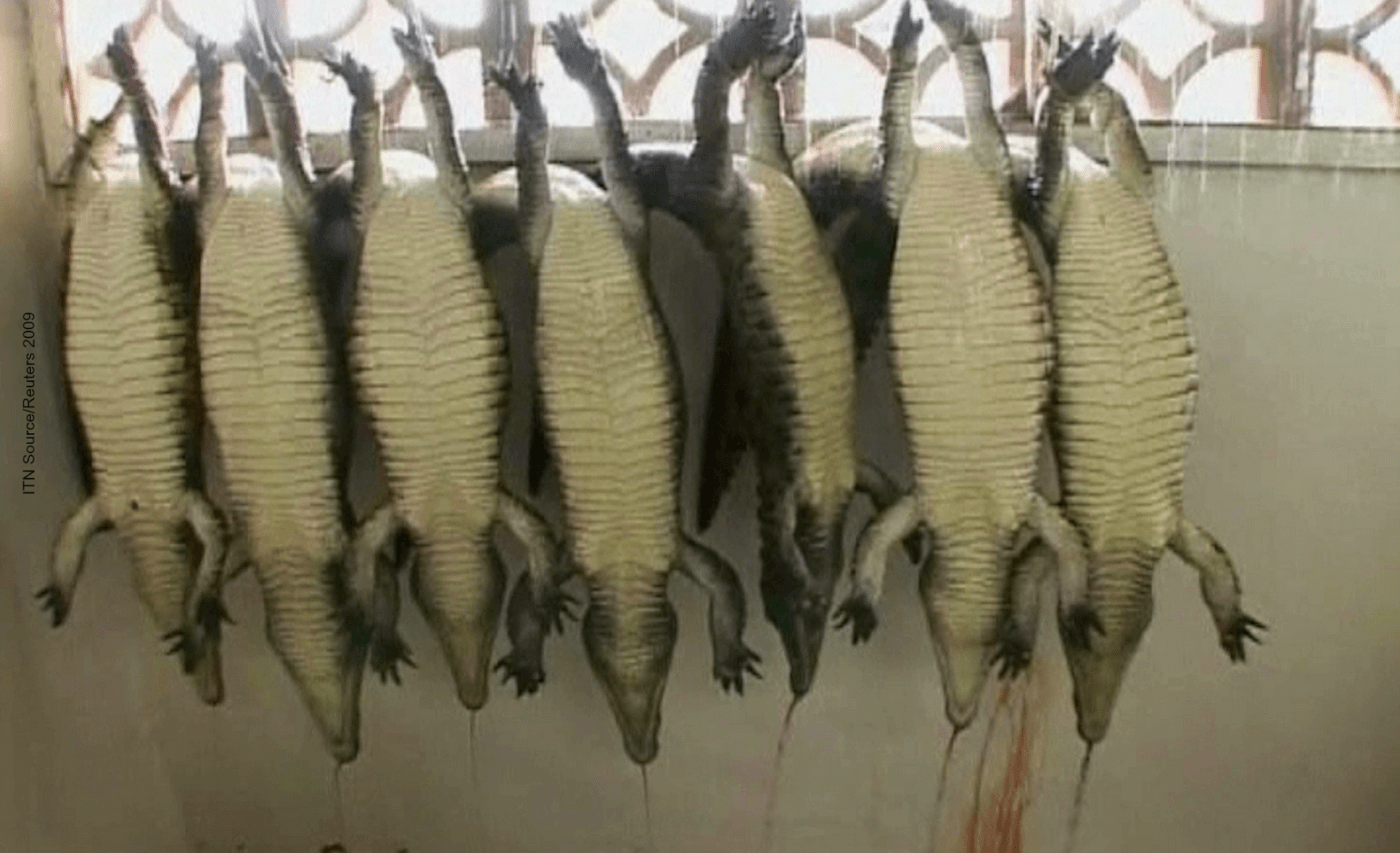 © ITN Source/Reuters 2009
PETA has also released a video exposé of the world's largest ostrich-slaughter companies, which supply Hermès, among others. Our eyewitnesses reported that workers forcibly pushed ostriches onto the kill floor and that many birds slipped and fell as they were manhandled into a stun box. After they were stunned by an electric shock to the head, their throats were cut and a knife was stuck into their chests to facilitate bleed-out. Often, the birds next in line had to see their flockmates being killed. All this, just for a handbag or pair of shoes.
What You Can Do
PETA is calling on Hermès to take a stand against suffering by ending the use of exotic skins in its collections. Help push the company to make more compassionate, cruelty-free choices today.