Wow, check out this photo of Victoria's Secret supermodel Fernanda Tavares sporting our "No Fur" button. I got it on Valentine's Day, no less! Of course, I got it from my friend Michael, who she actually sent it to, but whatever, I've never been one to let details get in the way of destiny …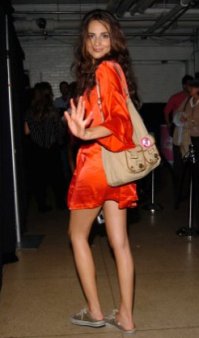 And here she is in a slightly different pose, in an ad she shot for us a while back.
Fernanda's not just a pretty face either. Check out her quote from the interview she did while shooting the ad: "Fashion is supposed to be fun, but there is nothing fun about breaking animals' necks and killing them with genital electrocution—common fates for animals destined to become fur coats," says Fernanda. "The fur industry butchers animals and pollutes our environment. I could never wear fur."
I love you, Fernanda.