Yesterday, Nanci Alexander—one of our most generous and tireless friends to animals—joined myriad PETA supporters in D.C. to cut the ribbon and officially open the doors to PETA's Washington home, The Nanci Alexander Center for Animal Rights:
© Leigh Vogel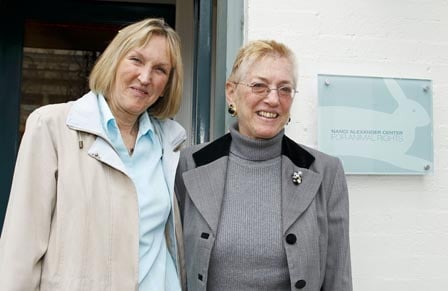 Nanci, whom Ingrid E. Newkirk describes as "an animal rights activist's activist," is the woman to whom Newkirk dedicated her book One Can Make a Difference. She is also the founder of the Animal Rights Foundation of Florida and the creator of Fort Lauderdale's fabulous all-vegan world cuisine restaurant Sublime, where Sir Paul McCartney and Steve-O have enjoyed meals, and as Ingrid says, if George Bernard Shaw and the Buddha were alive, you'd find them eating there too. She was among the first to spark debate over SeaWorld's horrible confinement of killer whales and dolphins and was also behind Florida's pig gestation-crate ban.
Finding herself seated next to President Bush the elder one day, Nanci asked him to do one thing: think about the suffering of the animals he shoots. If everyone spoke up that way, the world would be a far kinder place. Nanci has devoted her life to waking people up to cruelty to animals and changing everything from what they think to what they eat. PETA plans to do great things from the building now named after her.
Written by Logan Scherer