Following a PETA complaint, the U.S. Occupational Safety and Health Administration (OSHA) has cited The Mobile Zoo for a "serious" worker-safety violation for allowing employees to come into direct contact with a 27-year-old chimpanzee named Joe, as shown in Facebook videos in which he touches, handles, and places his mouth near an employee's hands and face. As OSHA notes in its January 27 citation, chimpanzees are capable of causing significant physical harm to humans, including "amputation hazards." In addition to a proposed $2,000 fine, The Mobile Zoo must abate the hazard by February 23.
Good morning! Joe our chimp saw I was wearing earrings (normally I don't) and he was fascinated! It was fun letting him try to figure out what they were. Enriching Joes environment is essential to his physical and mental wellbeing. We try to give Joe a variety of items for him to manipulate and explore to keep him stimulated.
Posted by The Mobile Zoo on Wednesday, August 5, 2015

"A highly social chimpanzee who has spent years in solitary confinement could lash out in his frustration and misery," says PETA Foundation Deputy Director of Captive Animal Law Enforcement Brittany Peet. "Human interaction is not an appropriate substitute for living among other chimpanzees, and now that Mobile Zoo employees are forbidden from dangerous direct contact with this chimpanzee, it's time for him to be released to the sanctuary home that PETA has secured for him."
The Mobile Zoo is currently facing a lawsuit from PETA on behalf of Joe, who is kept in a barren cell and under conditions that PETA alleges violate the Endangered Species Act. PETA has arranged for Joe's placement at an accredited sanctuary, where he would have the opportunity to interact with other chimpanzees.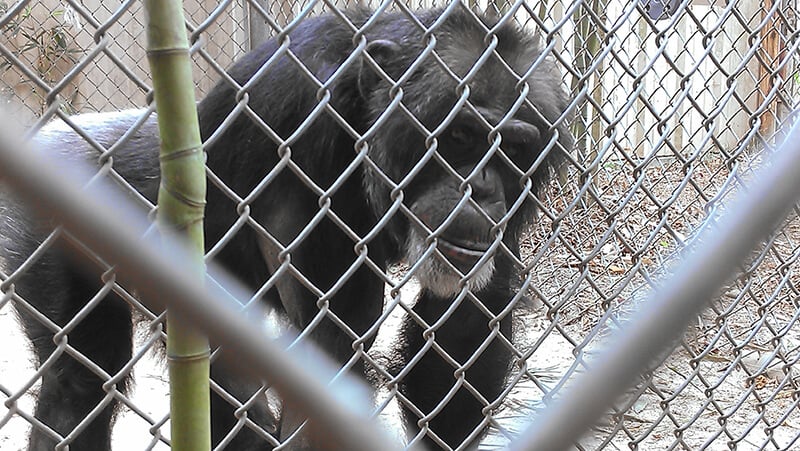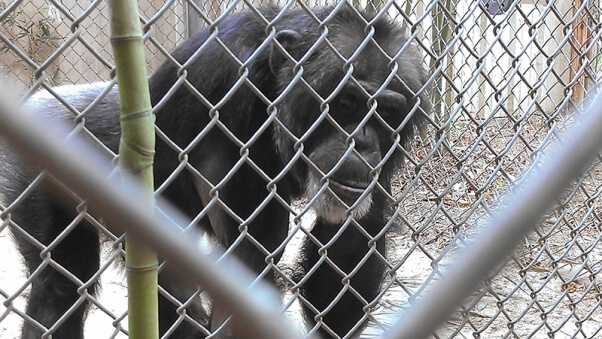 The U.S. Department of Agriculture has also filed a lawsuit against The Mobile Zoo for its numerous alleged violations of the federal Animal Welfare Act. The facility has been repeatedly cited for failing to address Joe's social and psychological needs, and it has also allowed gawking visitors to throw peanuts at him, causing him to lash out aggressively in response.
What You Can Do
You can speak up for Joe, and other chimpanzees held in solitary confinement by urging the facilities confining them to relinquish them to accredited sanctuaries immediately. Click below to help.