How adorable is Mike White? You can find out for yourself by tuning in to The Amazing Race, which airs every Sunday at 8 p.m. (check local listings). The quirky School of Rock and Nacho Libre writer/director/actor is teamed up with his dad (see "adorable" above) in the latest installment of the hit reality show. We probably love Mike the most, though, for his work on the incredibly touching movie Year of the Dog, about how the love of a dog inspires a life dedicated to animal rights. Not only did the death of Pencil in the beginning of the movie turn me into a hot mess of emotions, but I was thrilled that the movie touched on so many different animal rights issues.
We're rooting for Mike and his dad Mel because Mike is a vegan and an avid PETA supporter who has worn not one but two PETA tees on the show (and we suspect there are more to come!):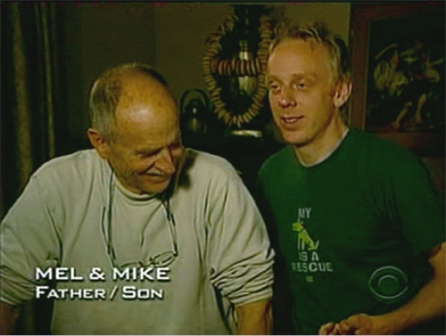 The plucky duo have proven to be tough competitors, placing first in episode 3, during which Mike bravely donned a Romanian gymnast's leotard and demonstrated his stylin' moves on the balance beam.
Need more reasons to pull for Mike? He spoke out in favor of the groundbreaking California Healthy Pets Act, which would have mandated that nearly all dogs and cats in the state be spayed or neutered.
Speaking of which, check out Mike's interview with PETA in which he talks about Year of the Dog and why he went vegan:
Written by Alisa Mullins