Photo © Rommel Manuel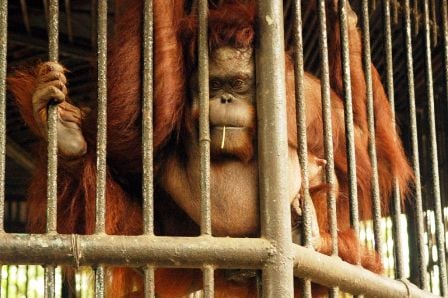 Since 1981, Sisi had been incarcerated at the Manila Zoo. Although orangutans are tree-dwelling animals, Sisi was forced to live much of her life in a tiny, litter-filled concrete-and-steel enclosure. She was on display continually in a cage that was surrounded by noisy souvenir stands and food vendors, and she was provided with nothing to hold her interest, help her pass the time, or stimulate her keen senses.
Sisi's death, reportedly from cancer, is just one indication of how animals have been left in deteriorating health without veterinary care at this atrocious zoo. Because PETA Asia-Pacific remains concerned about the well-being of the surviving animals at the Manila Zoo, who all lack the space, exercise, privacy, and mental stimulation that they require, the organization has decided to send a funeral wreath to the zoo in Sisi's honor. The wreath includes a ribbon emblazoned with the message "Sisi: Suffered in Life, Peace in Death" and will be accompanied by a card calling on zoo officials to close the facility's doors.
Written by Shawna Flavell