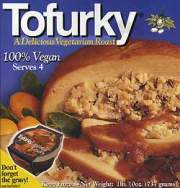 Tofurky
Thanksgiving is a special time for my family. Every year, just before the holiday, we gather in my parents' living room to swap stories, reminisce about Thanksgivings past, and desperately try to figure out what suckers are going to invite us to their family Thanksgiving this year. Because there's no way in hell my Dad's going to be doing any cooking, and I have a very strict policy against doing dishes when I'm on vacation. This year we have our sights set on the Papageorgiou family. They have a nice house in D.C., and preliminary reports indicate that they make excellent cranberry sauce. The one thing we do provide for our chosen hosts though is a frozen Tofurky for them to cook, so I can do my vegan thing in style. Along with the Thanksgiving football games, the Tofurky is the highlight for me of an already kickass holiday. I really, really like Tofurky.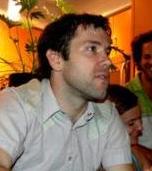 Manoles Papageorgiou
Turns out I'm not the only one. As of January 1, 2006, Turtle Island foods (the geniuses responsible for Tofurky) have sold 882,310 Tofurkys. They're currently holding a contest on their site to see who can guess what that number will be by January 1, 2007. The person who comes closest will win an Evader electric scooter, and all you have to do to enter is send your guess to [email protected], or fill out the form here. We're also holding our own contest with Turtle Island to give away a free Tofurky Feast, so you might want to check that out too. I'm apparently not allowed to enter that one because of some stupid "conflict of interest" crap. Maybe if you win, you can invite my family over for Thanksgiving this year.
Related Links
Turkey Terror!
Turtle Island Foods
Take the Thanksgiving Pledge