It's pretty well established that Stephen Colbert is the top name in hard-hitting, up-to-the-minute news nowadays—not only does he make or break presidential campaigns, but the dude even has a bridge named after him. And in yet one more coup for the king of late-night news, Colbert is fortunate enough to be hosting PETA President Ingrid Newkirk herself tonight, so that they can discuss the recent HBO documentary about PETA.
To mark this occasion, we've mocked up a brand-new Stephen Colbert doghouse for our program to help "backyard" dogs. As Ingrid puts it, "If you were stuck outside on a chain for your whole life in all weather and no love, this might at least make the people in the house over there come by once in a while, just to look, and you could bark at them to pass the time." Who needs a bridge when they can have a PETA doghouse with their face on it? You're very welcome, Mr. Colbert.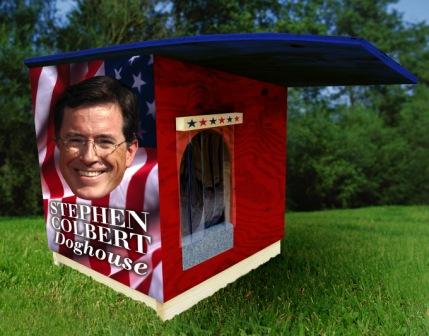 Here's hoping the "Colbert bump" we'll get from this appearance brings us animal liberation by the end of the week. If you have Comedy Central, be sure to check out Ingrid on The Colbert Report tonight at 11:30 p.m. And if you don't have Comedy Central … well you're really missing out on a whole lot of stuff—I'll post the video of the interview on the blog tomorrow morning.