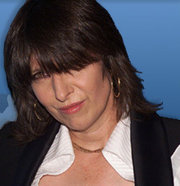 As part of a Marketing ploy to tap into the feminist "post-punk chic" demographic (OK, I just made that demographic up, but it sounds like it could be a real thing), handbag designers Hogan recently launched a line of leather bags named after badass rock chicks. Given that Joan Jett, Kathleen Hannah, and Pink, (to name a few) have all worked with PETA in the past on our anti-animal-skins campaigns, this was kind of landmine territory for Hogan, and the whole thing went downhill fast when they decided to name a pony-skin bag "The Chrissie" after The Pretenders' Chrissie Hynde-who is a lifelong animal rights activist and has staged protests around the world against the cruelty of the leather industry:
"I never thought I'd be moved to consider filing a lawsuit, but as soon as I heard my name was being used to promote bags made of dead-animal skin, I started exploring my legal options with my friends at PETA. At first, I thought this must be a joke, it's so outrageous and thoughtless."
I love you, Chrissie Hynde.
You can read the full story here.