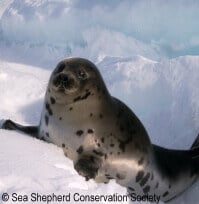 Sure, Apple banned our Be Nice to Bunnies app after catching a glimpse of sexy Stephanie Pratt in the buff, but PETA doesn't hold it against Steve Jobs. In fact, we think that Jobs and the rest of the Apple crew are pretty great after learning that the App Store said "no way" to an app called iSealClub—a game in which users wield a metal-tipped club and earn points by bashing seals to death.
We'll stand side-by-side with Apple in declaring that it's "objectionable" to make light of the bloody slaughter of tens of thousands of baby seals in Canada, and we're sending Apple CEO Steve Jobs a thank-you note along with some yummy vegan chocolate seals as a token of our appreciation.
People all over the world—including President Obama, Russian Prime Minister Vladimir Putin, the entire European Union (EU), and so many others—have condemned the seal hunt, and the market for dead animals' skins has tanked. It sounds like Canadian seal killers would be better off playing iPhone games than spending their time bludgeoning baby animals. In fact, I can direct them to a list of apps that could teach them a thing or two about compassion.
Written by Jennifer O'Connor