I'm pretty excited about this one, as it's the first time PETA is dipping its toe into Second Life. On July 12, we're teaming up with cruelty-free designer Stella McCartney to co-host an event on a specially created island in the virtual world. Visitors to the island—which is inspired by the English countryside, with stables, picnic tables, and a Linda McCartney veggie burger stand—will be able to show support for PETA in virtual terms. All visitors will receive a bunch of cool anti-fur gear for their Second Life character to wear; you can donate money in Linden dollars, the community's currency, which PETA will be able to exchange for real U.S. dollars, and you'll be able to dress your character in a sweet T-shirt with the slogan "I'd rather be pixilated than wear fur."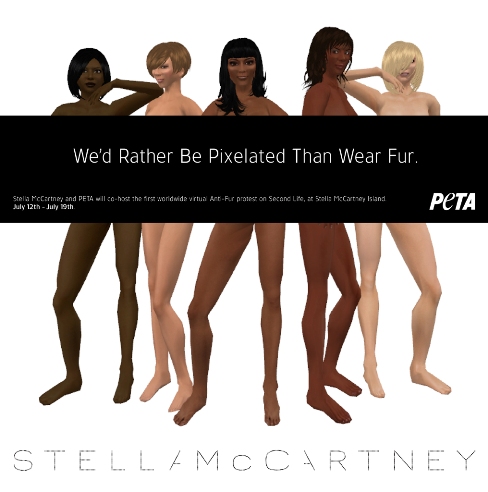 And check this out; there are real-world prizes to be won as well. We're holding a competition on the island from July 12 – July 19 for a new PETA slogan based around the iconic tag line, "I'd rather go naked than wear fur." Prizes include two tickets to McCartney's spring 2008 show in Paris, one of the designer's Appaloosa bags and her entire Care skin care line.
For those of you already on Second Life, I'd be glad to email you when the island goes live. Just send me an email so I have your address.