Recently, a good Samaritan from a rural Florida community saw an emaciated horse and became determined to find help for the animal. After his calls to local authorities failed to rouse a response (perhaps because the horse's owner allegedly has political connections), he issued a plea for help on Facebook, posting a photograph of the starving horse and urging his friends to pass the information along, hopeful that someone would know how to help rescue the animal.
The photo of the emaciated horse makes my skin crawl, but I can't help comparing his jutting bones to the ones shown in this diagram. He really appears to be a living skeleton.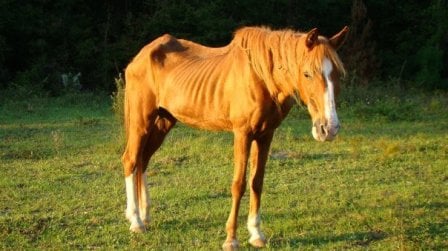 The man's post went up, and PETA's phones started ringing with calls alerting our Cruelty Investigations Department to this urgent situation. We didn't waste a second in contacting local law enforcement, and within hours the sheriff's department seized the horse from the property. The horse was rushed to a veterinarian for evaluation and is now awaiting adoption.
Social networking sites like Facebook and Twitter can offer more than high school reunion pics. and "pokes"—as this incident shows, they can also save lives. PETA now has over 300,000 Facebook friends. May we count you as one, too?
Written by Karin Bennett