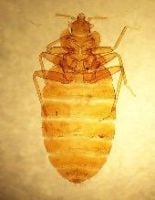 When I was a kid, my parents would tuck me in at night, saying, "Don't let the bedbugs bite." But what had been a cute little saying has become a real nightmare for people facing a surge in bedbug populations. And like so many other problems, this one has a link to factory farming, as Allen Szalanski, an Arkansas University entomologist who is studying the current situation, explained. Szalanski, who was interviewed by the Columbus (Ohio) Dispatch, is quoted in the following excerpt from the newspaper:
The poultry industry also has become a sort of mass-transit system for the insect, [Szalanski] said. He's found millions of the bugs living on breeder birds, which are sent across the country.

Poultry facilities "are so bad that if you walk in there even with a (protective suit), you'll still get bedbugs on you," he said. "Poultry workers could be moving bedbugs from one place to another."
So if you want to have a "good night" and "sleep tight," it's time to kick the bucket and go vegan. After all, no one ever got bedbugs from broccoli or crabs from a carrot!
Written by Jeff Mackey