Crazy cat ladies of America, you have some explaining to do. According to a recent Associated Press poll, 55 percent of cat guardians are in favor of declawing, while only 8 percent of dog fanciers agree with debarking, or surgically removing dogs' vocal chords.
I can only hope that most of the people who voted for declawing don't know exactly what it is. Declawing is like taking a hatchet to a hangnail—literally. It involves 10 separate, painful surgeries, severing not just the nails but the whole joint, including the bones, ligaments, and tendons.
Complications of declawing include chronic pain, nerve damage, hemorrhaging, bone chips, recurrent infections, and abnormal regrowth of the nail inside the paw. Oh, and let's not forget those other two common "complications"—biting and spraying. I've had two declawed cats in my life (both were already declawed when they came to me), and one was a biter and the other is a sprayer. Think snagged furniture is the worst of your problems? Try walking into a house that reeks of cat urine. It takes destruction of property to a whole new level.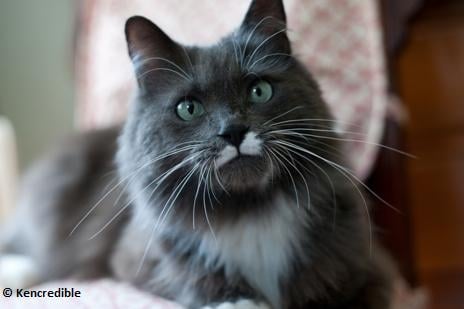 Declawed Teddy: He's so gorgeous, I can forgive him for spraying on anything in a box or plastic bag.
Not all declawed cats become biters and sprayers, of course, but you have no way of knowing how your cat will react until it's too late. Declawing is a permanent solution to what is often a temporary problem. Kittens usually outgrow their urge to scale the drapes and attack your wiggling toes. Most cats naturally gravitate toward scratching posts and cardboard scratching boxes, especially if you make them more alluring with catnip and toys. Claws' destructiveness can be curtailed with biweekly trimming. You trim your dog's nails—why not your cat's?
Find more tips on discouraging cats from scratching furniture in PETA President Ingrid E. Newkirk's book 250 Things You Can Do to Make Your Cat Adore You.
Written by Alisa Mullins