Dreading fighting the crowds at the mall? Avoid the Black Friday blues with our top picks for fab cruelty-free finds for everyone on your list.
Forever 21's extensive line of bags, wallets, and luggage for women is made from faux leather, mock croc, faux fur, and fun animal prints that are perfect for trendsetters who know that real dead animal skin is as out of fashion as a 1980s paint-splashed blue-jean bag. The store has a superb line of belts, travel bags, and duffles for men too. For more cruelty-free fashion than you can shake a candy cane at, check out PETA's page at the überhip fashion site Polyvore.
Kids will love the new Fincredibles lifelike aquariums. It wouldn't be right to put fish in a tiny bowl or butterflies or fireflies in a jar, but these fool-your-friends electronic animals won't mind at all.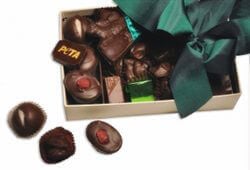 There's a foodie in every family, and even the most discerning taste buds won't be able to resist a gift basket filled with elegant vegan caviar, melt-in-your-mouth chocolates, and a plethora of vegan cheeses.
For the most difficult creature to buy for, the person who has everything, try a gift that everyone loves: luscious soy candles in all sizes and scents from Universol Aromas. Or, for an equally scentsational gift, opt for vegan soaps from Lush in fragrances such as Sexy Peel, Rock Star, Queen of Hearts, and Temptation. PETA also offers a guide to cruelty-free beauty products in every price range.
Everyone loves a fun day out or a night on the town, so give the gift of entertainment with tickets to professional or college sporting events, concerts, theater productions, art shows, or stand-up comedy. Check with the ticket offices at your local venues or visit Stubhub.
If you're still stumped, give a gift card! Gift cards for the PETA Catalog are available in any dollar amount, and the lucky recipient can choose clothing, accessories, books, beauty products, bags, travel bottles, and loads more while helping animals with every purchase.
Happy holidays!