Like a warm-weather Santa Claus, the Easter Bunny delivers baskets full of treats to children every year. But photographers who use real rabbits as props in Easter photos shouldn't expect anything in their baskets but plastic grass.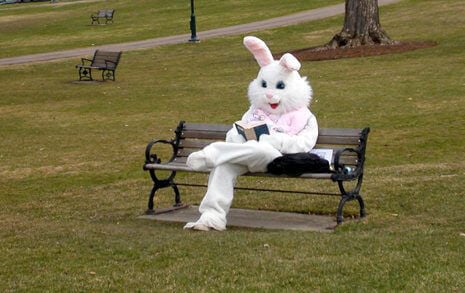 Unlike real rabbits, this Easter bunny doesn't mind being taken out of the wild for photo shoots. zappowbang/cc by 2.0

Rabbits are easily stressed by unfamiliar surroundings and terrified by loud noises and sudden movements. They often panic when handled, and a frightened rabbit can bite or scratch children. They are also delicate animals whose spines can snap if they kick or if they're dropped or even held improperly. And when Easter is over, these animals are often abandoned at shelters or dumped outside, where they are killed by predators.
Please don't support businesses that use live animals as props. Many national portrait studios have policies against using live animals, such as Sears Portrait Studio and LifeTouch Inc. studios in Target and JCPenney stores. Stuffed animals are a simple, humane alternative, as are Easter bunnies of the costumed variety.
Written by Michelle Sherrow