All across our great nation, bikini-clad PETA members have been out in full force, snatching media attention and educating the public about cruelty to animals. If only math classes used such brilliant strategies, we'd all be calculus whizzes!
From the International Putrid … excuse me, Poultry Expo in Atlanta to the slushy streets of Flint, Michigan, our bevy of beauties shared the facts with fascinated passersby. Take a peek at the action:
These ladies took up positions in their battery cages outside the International Poultry Expo to remind people that chicks suffer in the egg industry.
Our fierce "bunnies" braved freezing flurries in Flint to get out the fur-free message.
In South Carolina, this painted lady told circusgoers that wild animals don't belong behind bars.
The reception for our pro-chicken "chicks" was anything but chilly in Tucson, Arizona.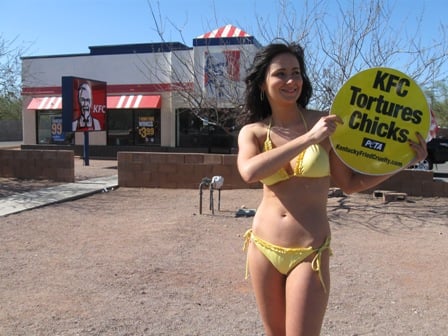 Impressive work, ladies! You braved the cold to help our voiceless friends. From my warm office, I raise my soy hot cocoa to you.
Written by Missy Lane