This weekend, D.C. residents were lucky enough to have the chance to catch PETA's hardworking campaigners showering for a cause—not once, but twice!
On Friday, two PETA ladies decided to clean their consciences on the corner of Seventh Street and Pennsylvania Avenue. Our squeaky-clean lasses wanted to let people know that the amount of water that it takes to produce 1 pound of meat could provide an individual with a year's worth of showers.
Click here to see the complete gallery of photos from Friday's event.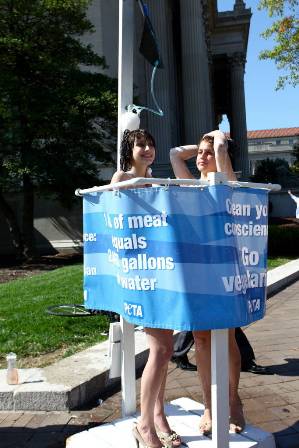 Then, at the Washington Convention Center on Saturday, our message got masculine (and mustachioed).
Our showering fella was at the annual Green Festival, where he let people know that meat's not green and that the easiest way to have a positive impact on the environment is to wash your hands of the stuff.
Written by Shawna Flavell